13 Best Chicken Sausage Recipes for Weight Loss
For some people who may be trying to lower their saturated fat intake, white meat, like that found in poultry like chicken and turkey, can be healthier to consume on a regular basis than red meats like beef and pork. But there are some dishes that call for the use of traditional red meats, like sausage, and if you're trying to lower you red meat intake, chicken sausage can come in handy. Like the turkey burger before it, chicken sausage is a healthy alternative to eating pork sausage and can be added into a variety of recipes as a lower-fat protein.
We've selected some chicken sausage recipes for you to try that are nutritionally-dense, while still packing in a ton of flavor. Read on, and for more healthy recipes check out 28 High-Protein Breakfasts That Keep You Full.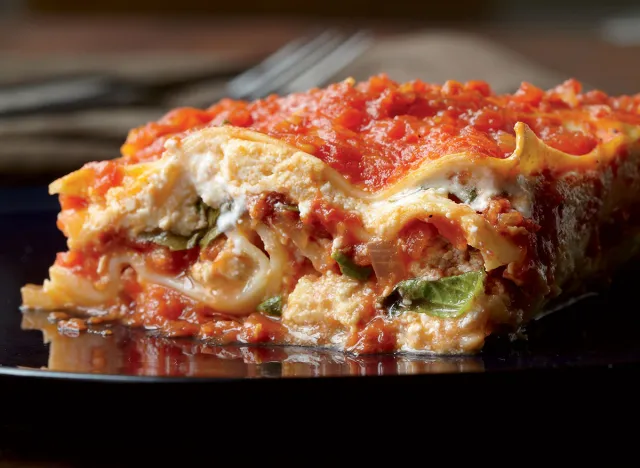 Per 1 serving: 360 calories, 11 g fat (5 g saturated), 450 mg sodium
When you combine pasta, cheese, and tomato sauce, you can't really go wrong flavor-wise. Unfortunately, health-wise can be a different story. Most lasagnas come packed with excess calories and fat, but this recipe is able to avoid much of that by swapping the traditional ground beef for chicken sausage, an alternative that's lower in fat and calories, but still great in flavor.
Get our recipe for Easy Chicken Sausage Lasagna.
Per 1 serving: 395 calories, 12 g fat (3.5 g saturated fat), 750 mg sodium
Calzones aren't usually top-of-mind when you think up healthy meals. It's all too easy to rack up a staggering calorie count when putting in different fillings, but this recipe keeps it light by relying on the excellent flavor from sauteéd and roasted vegetables, as well as chunks of chicken sausage, resulting in a low-calorie, yet filling meal.
Get our recipe for Veggie and Chicken Loaded Calzone.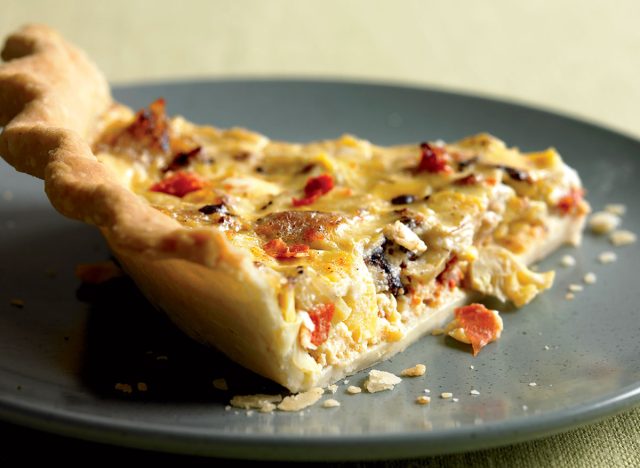 Per 1 serving: 250 calories, 14 g fat (5 g saturated fat), 890 mg sodium
Perfect for breakfast, lunch, dinner, or just a snack, this quiche recipe doesn't contain the heavy cream and cheese that typically weigh quiches down with excess calories and fat. Instead, it's packed with healthy sun-dried tomatoes and artichokes, as well as two links of chicken sausage to add in some protein.
Get our recipe for Savory Artichoke Feta Quiche.
Per 1 serving: 415 calories, 17 g fat (5 g saturated fat), 625 mg sodium
Burritos are just about the perfect lunch or dinner, so why not make them the perfect breakfast as well? This tasty recipe features chicken sausage as the main protein, as well as eggs, onion, black beans, and avocado to round out the burrito. Also, by swapping out white tortillas for whole wheat tortillas, pork sausage for the chicken sausage, and adding beans and avocado, this delicious breakfast item, which might just become a morning staple, cuts the calories in half and adds some much-needed nutritional value.
Get our recipe for Easy Breakfast Burrito.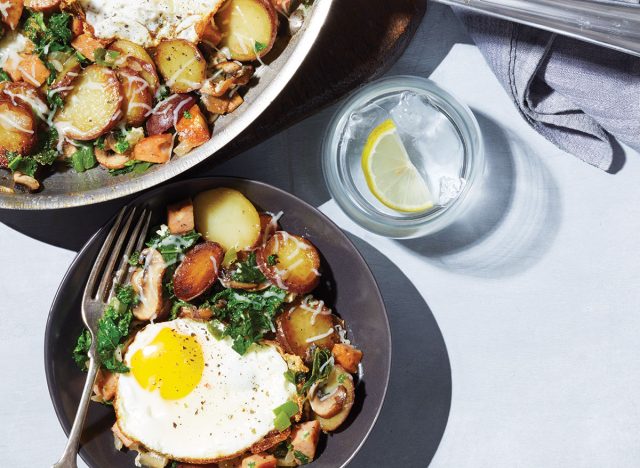 Per 1 serving: 378 calories, 17 g fat (5 g saturated fat), 577 mg sodium
Some people enjoy a sweet start to the day with breakfast foods like pancakes, French toast, or yogurt, but for those who enjoy a more savory kickoff to begin the day, this breakfast hash with chicken sausage is the perfect choice. The hash, which is filled with veggies like kale, banana peppers, and cremini mushrooms, as well as crispy potatoes, is low in saturated fat and calories.
Get our recipe for Hearty Italian Hash with Eggs.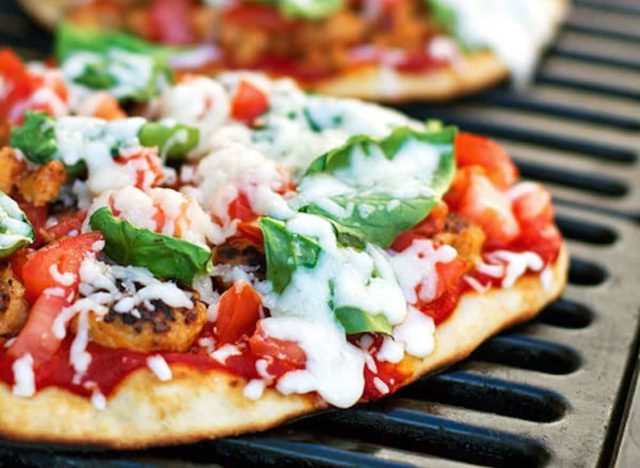 Per 1 serving: 494 calories, 24.2 g fat, 1400 mg sodium
Who doesn't love pizza? The beloved food can be prepared in so many ways, but rarely is it prepared with health in mind, until now. This recipe swaps fattening meat toppings like pepperoni and bacon for lower-fat chicken sausage, and also tops the pizza with spinach and diced tomatoes. While this recipe is relatively low in calories and fat, especially compared to other pizza recipes, it does have a high sodium content, so avoid any excess salt when putting this dish together.
Get the recipe from Pinch of Yum.
READ RELATED: UK logs another SEVENTY-SEVEN monkeypox cases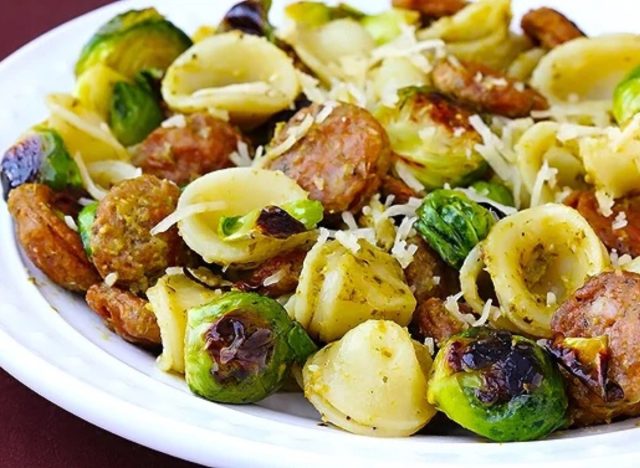 Sometimes the best recipes are the most simple, and this pasta dish is proof of that. The easy-to-put-together meal only has nine ingredients, including four links of chicken sausage, as well as orecchiette pasta and a pound of Brussels sprouts. As the pasta dish doesn't include more fattening meats, like pork or beef, and isn't weighed down with mozzarella, it's also lower in fat and more nutritious than many other pasta meals.
Get the recipe from Gimme Some Oven.
Per 1 serving: 138 calories, 8.8 g fat (3.7 g saturated fat)
Typically, muffins aren't going to be the healthiest thing you can eat. Loaded with sugar and white flour, while also being filled with common ingredients like chocolate chips, muffins made of flour should be a rare treat as opposed to a regular recipe if you're trying to lose weight. Egg muffins, on the other hand, are a great option for anyone looking for a healthier breakfast alternative. These muffins, which only take 20 minutes to prep and cook, are low-carb and a great source of protein, so they'll leave you feeling full through the morning.
Get the recipe from Ambitious Kitchen.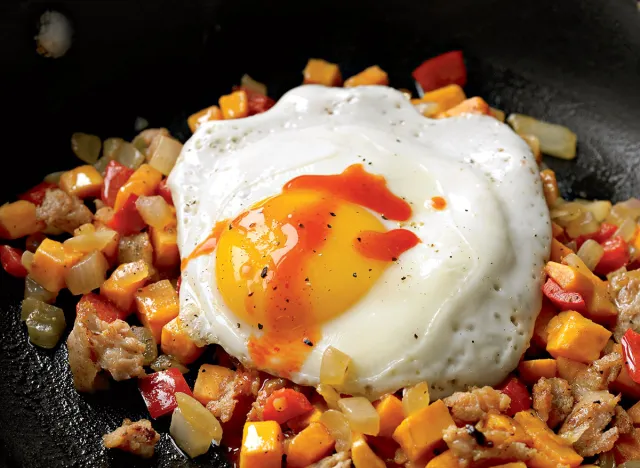 Per 1 serving: 230 calories, 11 g fat (4.5 g saturated fat), 290 mg sodium
Breakfast hash is a diner classic, but you don't even have to change out of your pajamas in the morning and step outside to have a delicious hash for breakfast. With this recipe, not only are you saving a trip out, but you're also saving yourself a lot of calories and saturated fat that's typically found in delicious, yet greasy and fat-laden diner food. This hash features crispy sweet potatoes, chicken sausage, and sunny-side eggs for a nutritious start to the day.6254a4d1642c605c54bf1cab17d50f1e
Get our recipe for Easy Breakfast Hash with Sweet Potato and Chicken Sausage.
Per 1 serving: 630 calories
For anyone pressed on time, one pot dinners are extremely helpful. All you have to do to get the meal going is dump all of the ingredients in one pot or Dutch oven and wait for it to be done, just like with this creamy, nutritionally-dense orzo recipe. This meal, which is filled with summer veggies like spinach and zucchini, is low in calories for such a creamy, cheesy pasta dish.
Get the recipe from Half Baked Harvest.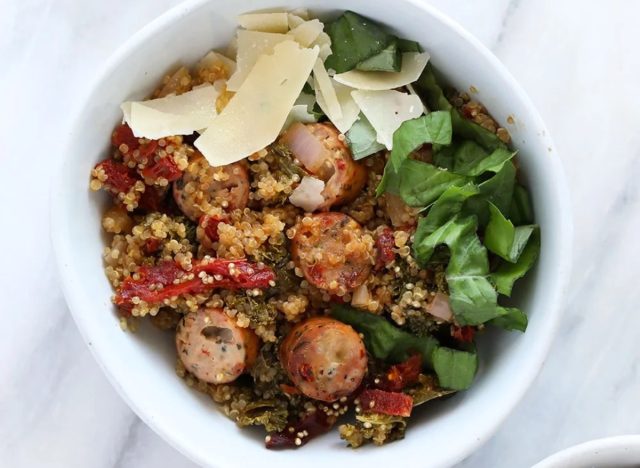 Per 1 serving: 318 calories, 11 g fat
One of the best parts of cooking in the fall is bringing the oven out of retirement and making all sorts of warm, delicious, oven-baked meals, including this healthy casserole. The meal is packed with Italian flavors because of the sun-dried tomatoes, and packed with protein from the chicken sausage. It's also extremely low in fat and is easily customizable, making it perfect for any of the pickier eaters who want to be healthy.
Get the recipe from Fit Foodie Finds.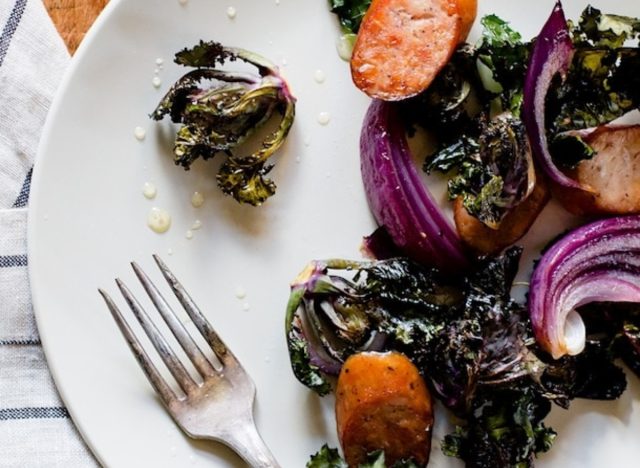 For anyone with a busy lifestyle, sheet pan dinners are a key to making a nutritious meal, while not spending a lot of time preparing or cooking it. Sheet pan dinners are simple, all you have to do is place your ingredients on the pan and pop it in the oven. For this recipe, all you have to do is cut some red onion, kalette, and chicken sausage pieces and cover them in oil, red wine vinegar, and seasonings. Not only is it simple to make, it's also a nutrient-rich and protein-packed meal.
Get the recipe from Heartbeet Kitchen.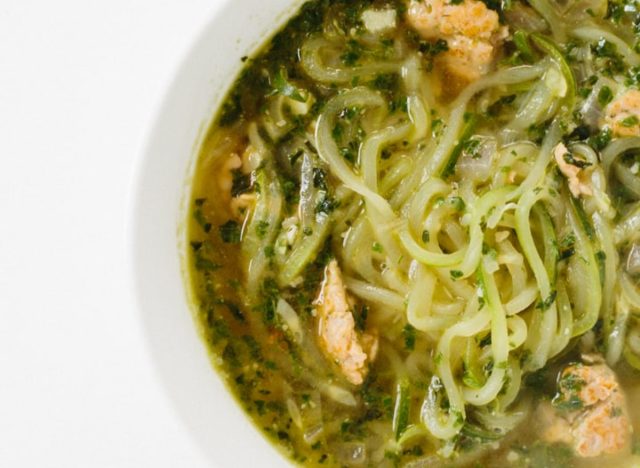 Per 1 serving: 290 calories, 18 g fat (5 g saturated fat), 1,514 mg sodium
There's nothing quite as perfect for colder weather than a big bowl of homemade soup, and this one, filled with chicken sausage and zucchini noodles, is perfect for any chilly weather day. By swapping carb-heavy pasta for zucchini noodles, this soup is able to remain low in calories while also packing in a ton of nutrient-dense vegetables, although it's relatively high in sodium, so be mindful of any excess salt you're taking in.
Get the recipe from Inspiralized.
Chicken sausage is a great alternative for those who are trying to lower their red meat intake, or for those who may just prefer the taste of chicken of pork or beef. These recipes can help you enjoy classic sausage-based meals with fewer calories and saturated fat. Choose your favorite recipe from the list above, gather the ingredients and your favorite chicken sausage, and enjoy!
Source: