38 Best Grilling Recipes on the Planet
Grilling season is upon us, and this year we vow to make your backyard barbecue more delicious than ever. We've gathered recipes for grilling the obvious stuff—steak, burgers, and veggies—but also ones that'll have you exploring grilled desserts, cheeses, and breads.
We hope you enjoy these finger-licking recipes and suggestions for grilled dishes. And as you heat up your grill, prepare to make a delicious, memorable meal by using these 24 Essential Grilling Tips from Top Chefs.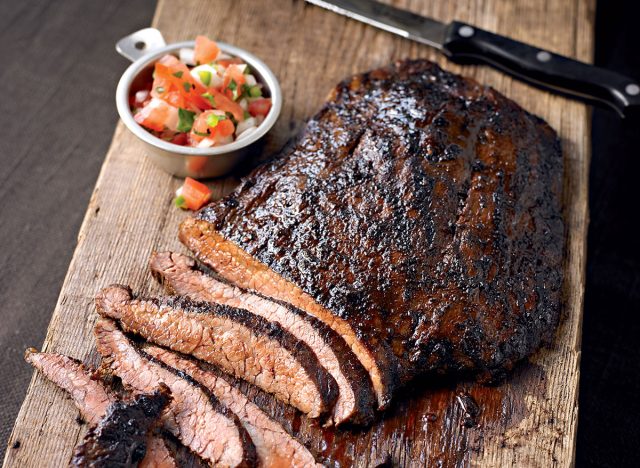 If you're looking for a creative, tasty idea for a dry rub, this recipe for coffee-rubbed steak is the answer to your BBQ prayers! Although coffee and steak may seem like an unlikely duo, in actuality, the robust notes of java combined with the smokiness of your grill will help elevate the flavor of your cut of beef.
Get our recipe for Coffee-Rubbed Steak.
For a taste of classic Americana cuisine, you can't go wrong with a Coca-Cola and beer-marinaded grilled chicken. This recipe also includes a handful of useful tips to help you retain the moisture of your bird while simultaneously achieving the perfect, crisp, even cook. And those home chefs who enjoy cracking open a cold one while standing over a hot grill will really appreciate the fact that this recipe calls for drinking half the can of beer before using it to mount your chicken inside the grill.
Get our recipe for the Simplest Beer Can Chicken.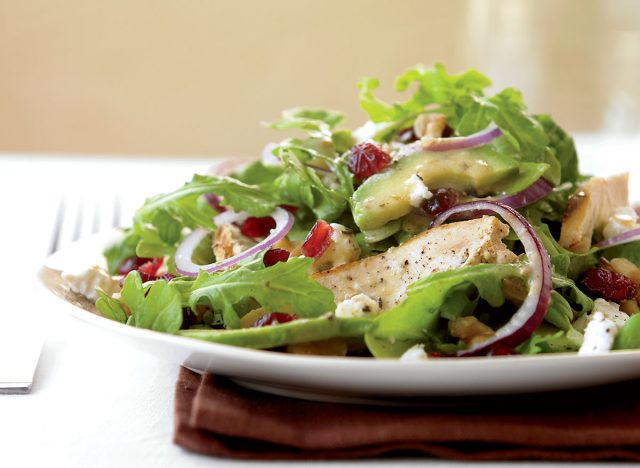 The best thing about hosting a cookout is getting to feast on all the leftovers after everyone else goes home. After the sun has set on your Sunday afternoon BBQ, get your Monday meal prep on by using the leftover grilled chicken breast in this bright, nutritious grilled chicken and avocado salad. Not only will you be the envy of all your coworkers come lunchtime, but also, this protein-packed salad will satiate your appetite and keep you happily full until dinner.
Get our recipe for the Ultimate Grilled Chicken and Avocado Salad.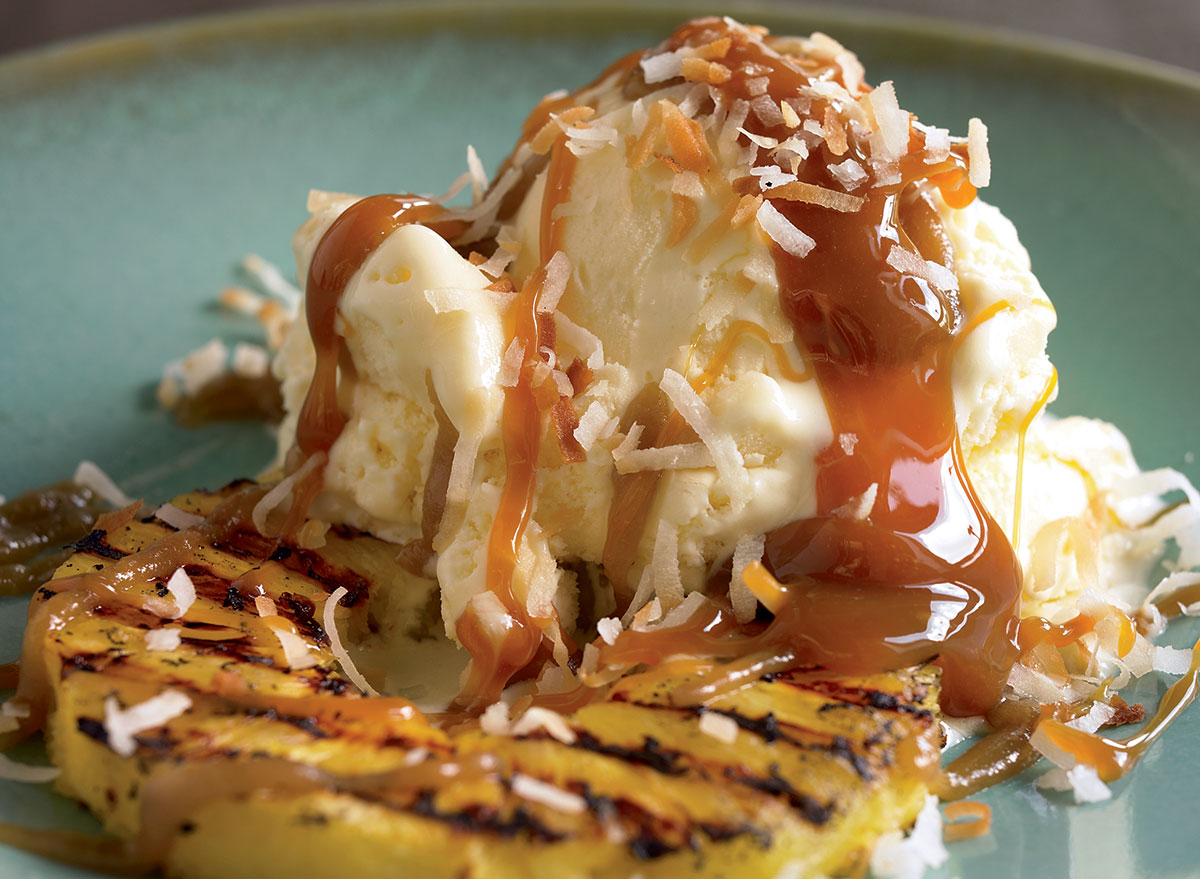 When it comes to making the perfect fruity and flavorful sundae, the tart acidity of pineapple combined with decadent, rich rum sauce and creamy classic vanilla ice cream is an ideal combination of sweet meets tart. However, take this flavor profile up a few notches by adding a touch of smokiness after tossing your pineapple rings on the grill.
Get our recipe for a Vanilla Grilled Pineapple and Rum Sauce Sundae.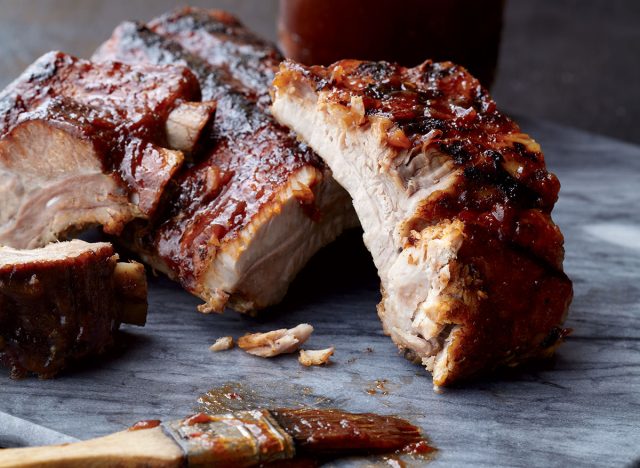 What cookout is complete without a finger-licking rack of smoky, sweet ribs? While most BBQ ribs recipes may be calorie-dense, this recipe—which uses fresh peach, barbecue sauce, and a dash of bourbon—is only about 400 calories per serving. Trust us when we say that this recipe will have your friends and fam lining up around the grill, empty plate in hand, in pursuit of seconds and thirds.
Get our recipe for Low-Calorie Smoky Ribs in a Peach BBQ Sauce.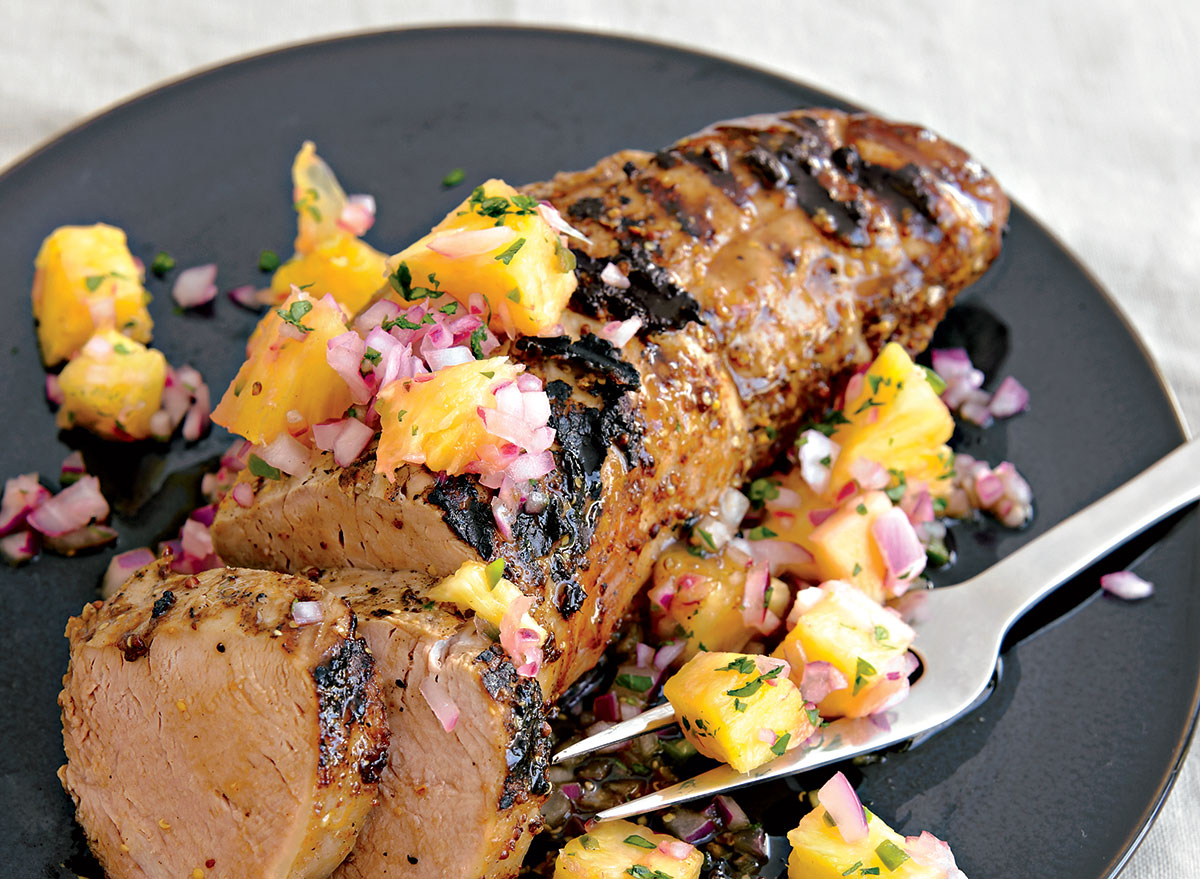 Pork tenderloin is nearly as lean as white meat chicken and can hold its own with big, gutsy, bold flavors, which makes it perfect for grilling. Here, a heady rub of mustard and chili powder and a powerful salsa of pineapple and jalapeño add a zing to the light meat.
Get our recipe for Grilled Pork Tenderloin With Pineapple Salsa.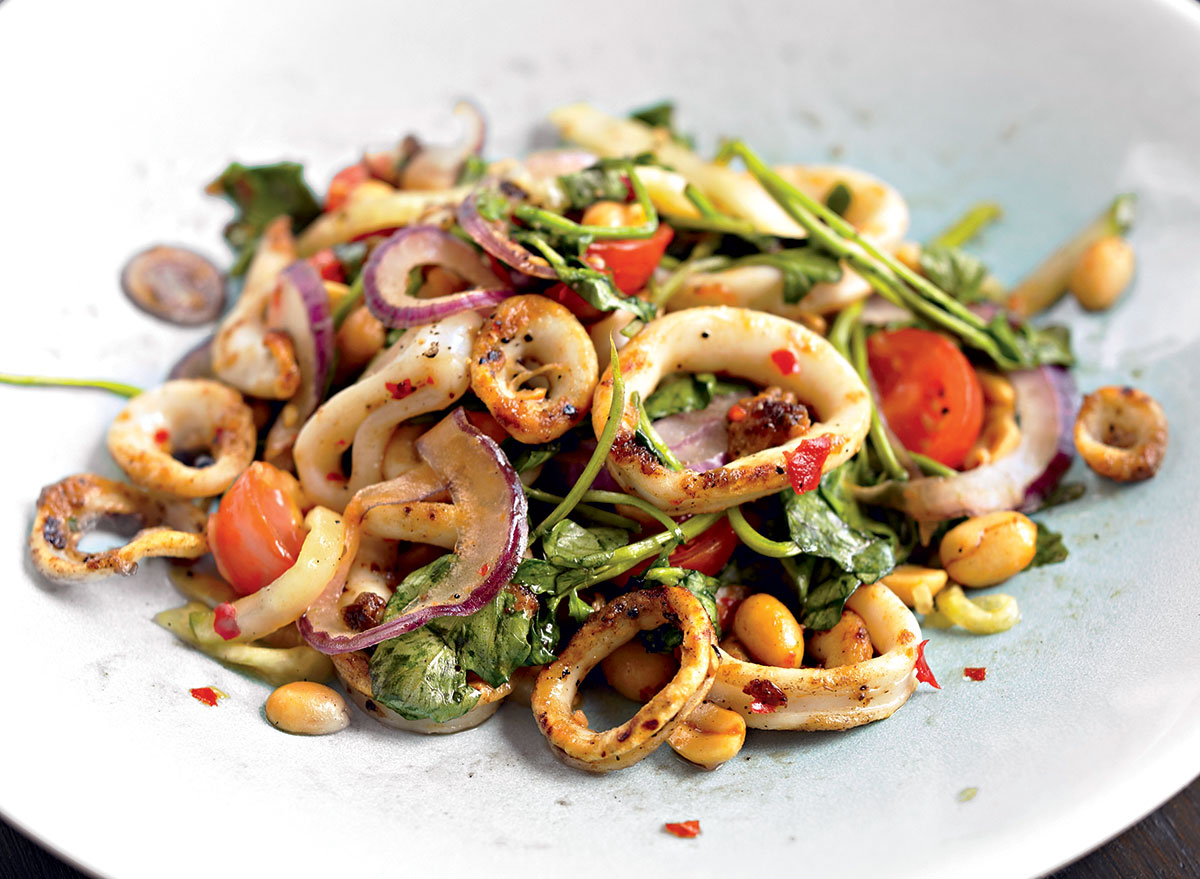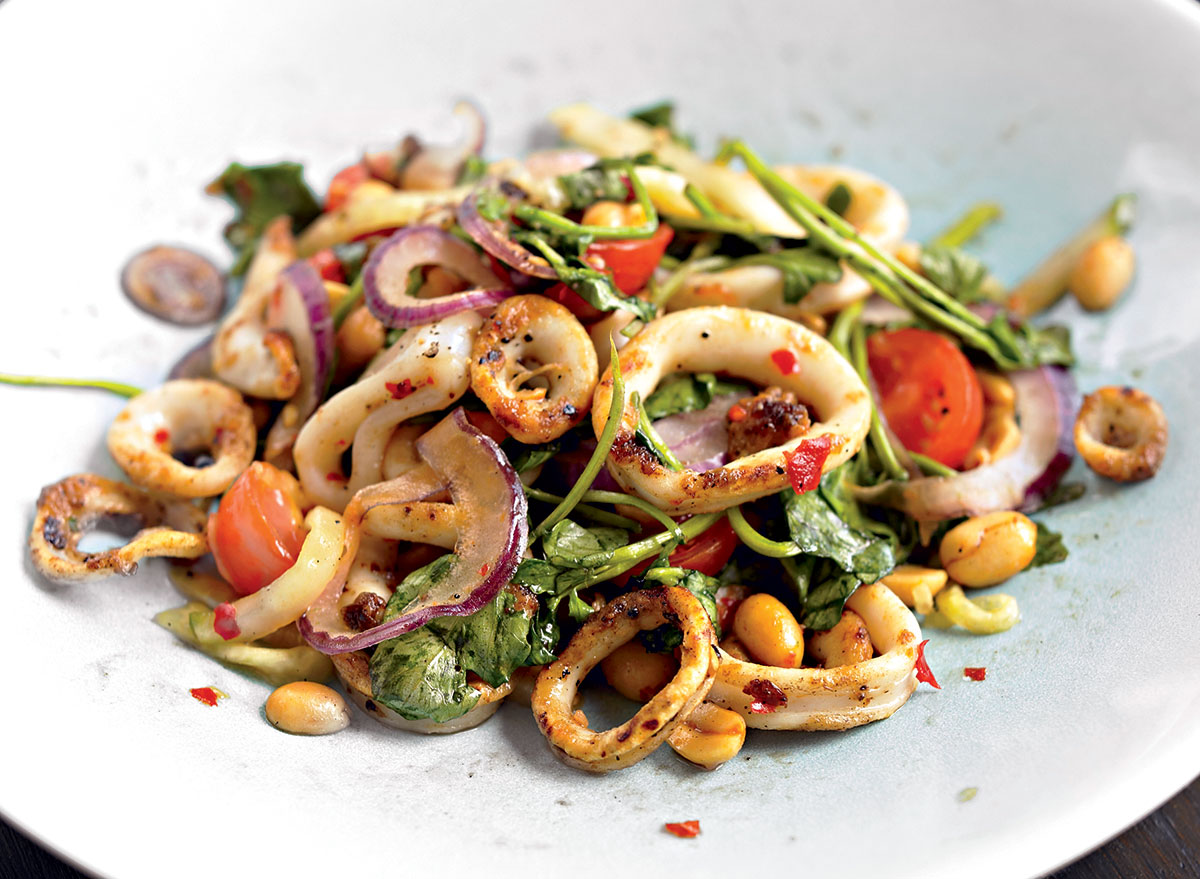 Forget breaded calamari and char them on a grill instead. It makes for a much lighter warm-weather dish that can be turned into a salad, like in this recipe. Get ready to be transported to a warm Mediterranean country straight from your backyard.
Get our recipe for Spicy Grilled Calamari Salad.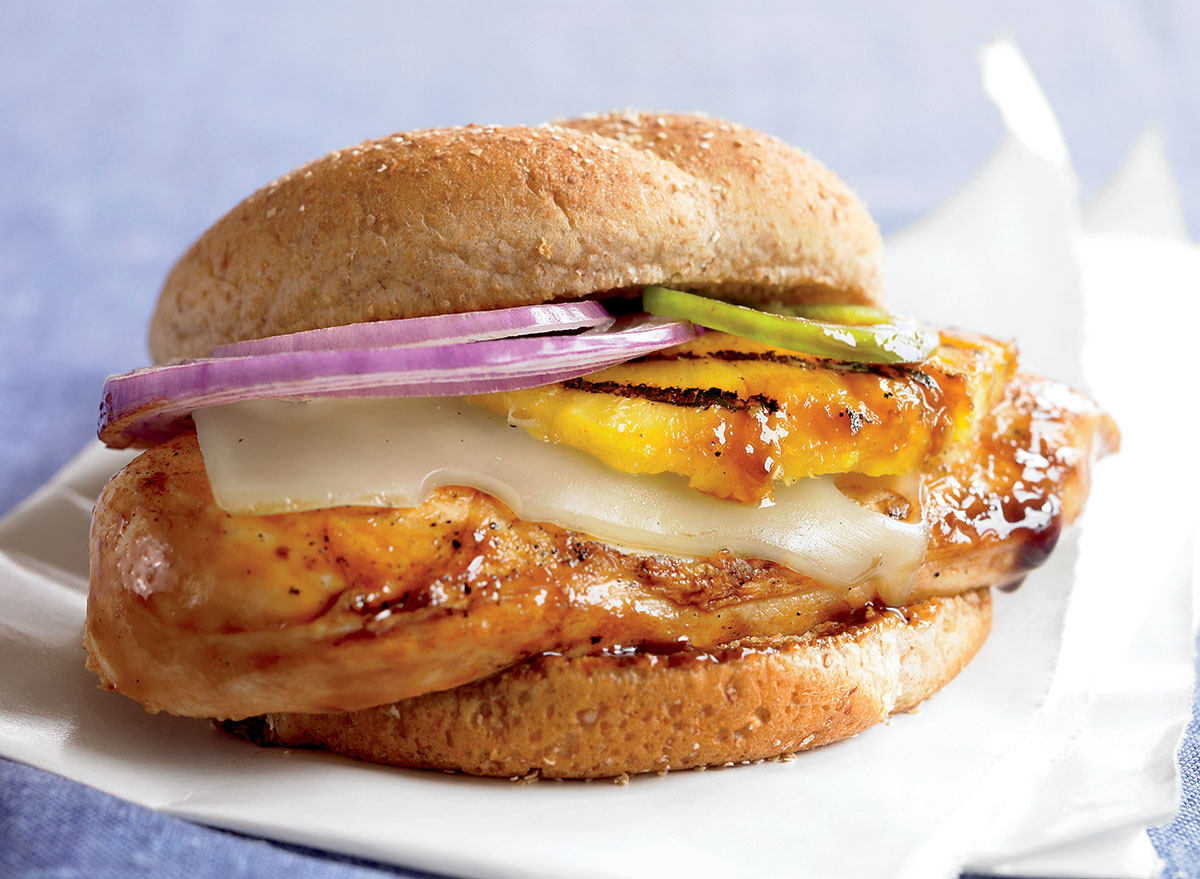 If you're grilling chicken breasts, there's a good chance they'll turn out bland without a good marinade and other ingredients to add some interest. This recipe will have you combine them with a teriyaki marinade and grilled pineapple for a sandwich that is bursting with bold flavors.
Get our recipe for Spicy-Sweet Grilled Chicken and Pineapple Sandwich.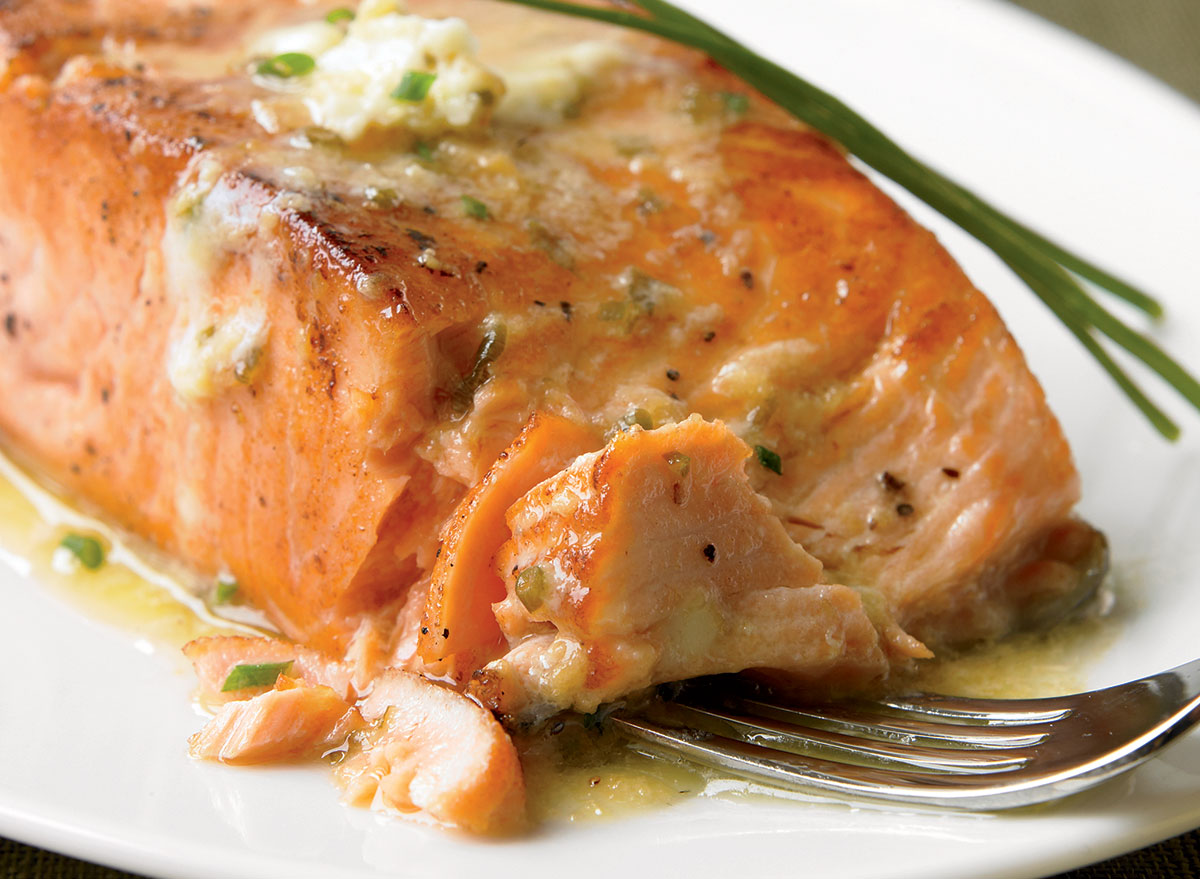 Salmon and butter are a classic pairing, but this recipe takes it a step further. You'll flavor the butter with chives and soy sauce, then let it melt all over your perfectly charred salmon. It's a flaky, buttery masterpiece.
Get our recipe for Grilled Salmon With Ginger Soy Butter.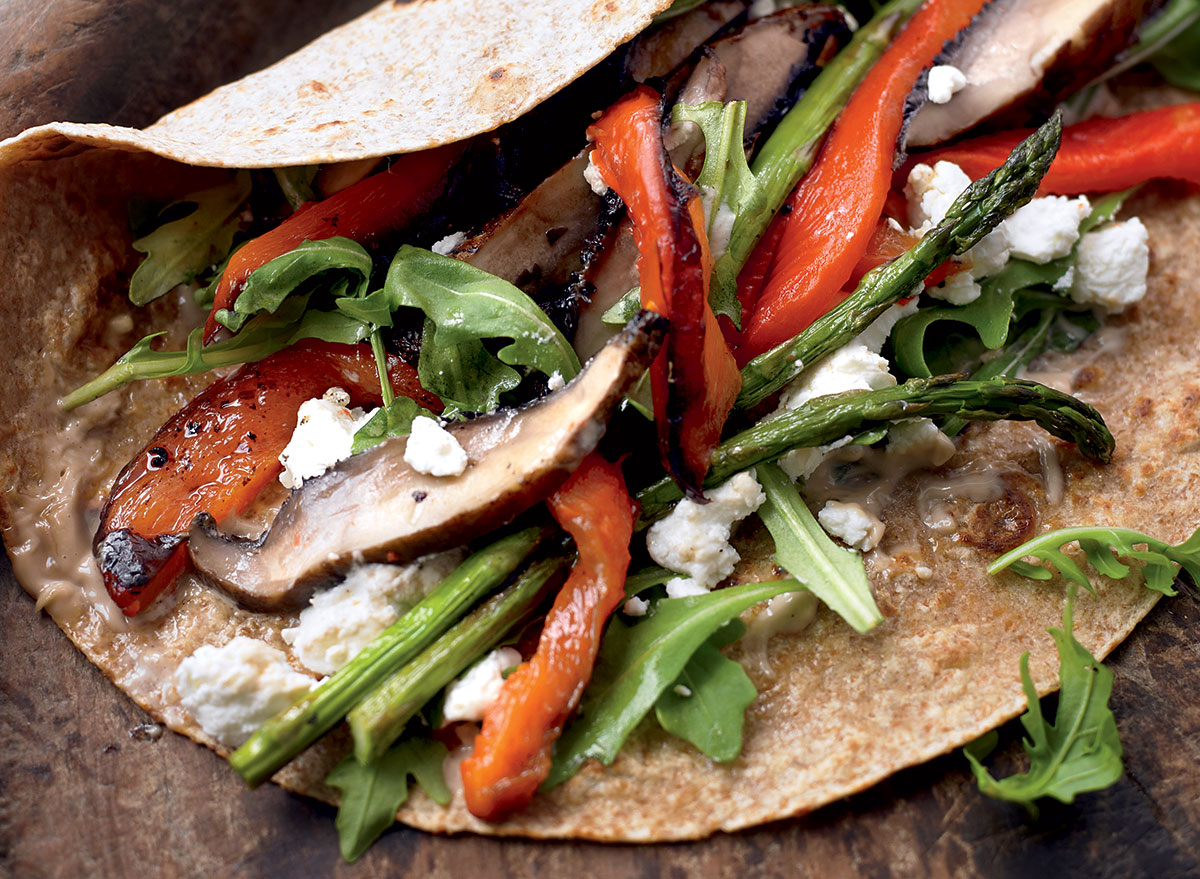 You've never known vegetables like this! Cooking them on a hot grill brings out their brightest, sweetest flavors, which become even more pronounced with the addition of balsamic mayo. Don't skip the feta cheese in your veggie wraps—it'll add umami and saltiness.
Get our recipe for Grilled Vegetable Wrap With Balsamic Mayo.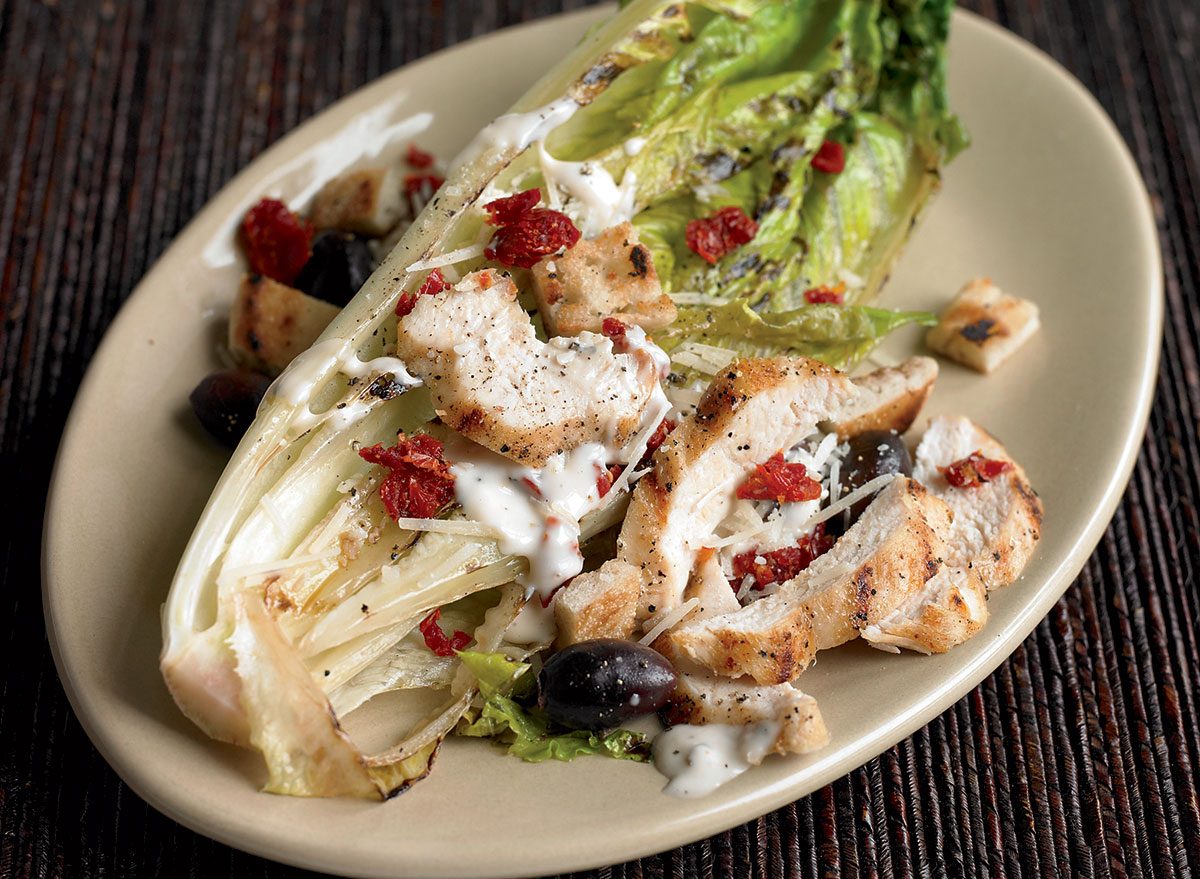 You'll grill all the components of this Caesar salad, including the lettuce. Make sure the grill is super hot so the lettuce leaves get more charred and crisped than wilted. It's one of the best ways to add some flavor to an otherwise pretty bland leafy green.6254a4d1642c605c54bf1cab17d50f1e
Get our recipe for Grilled Caesar Salad.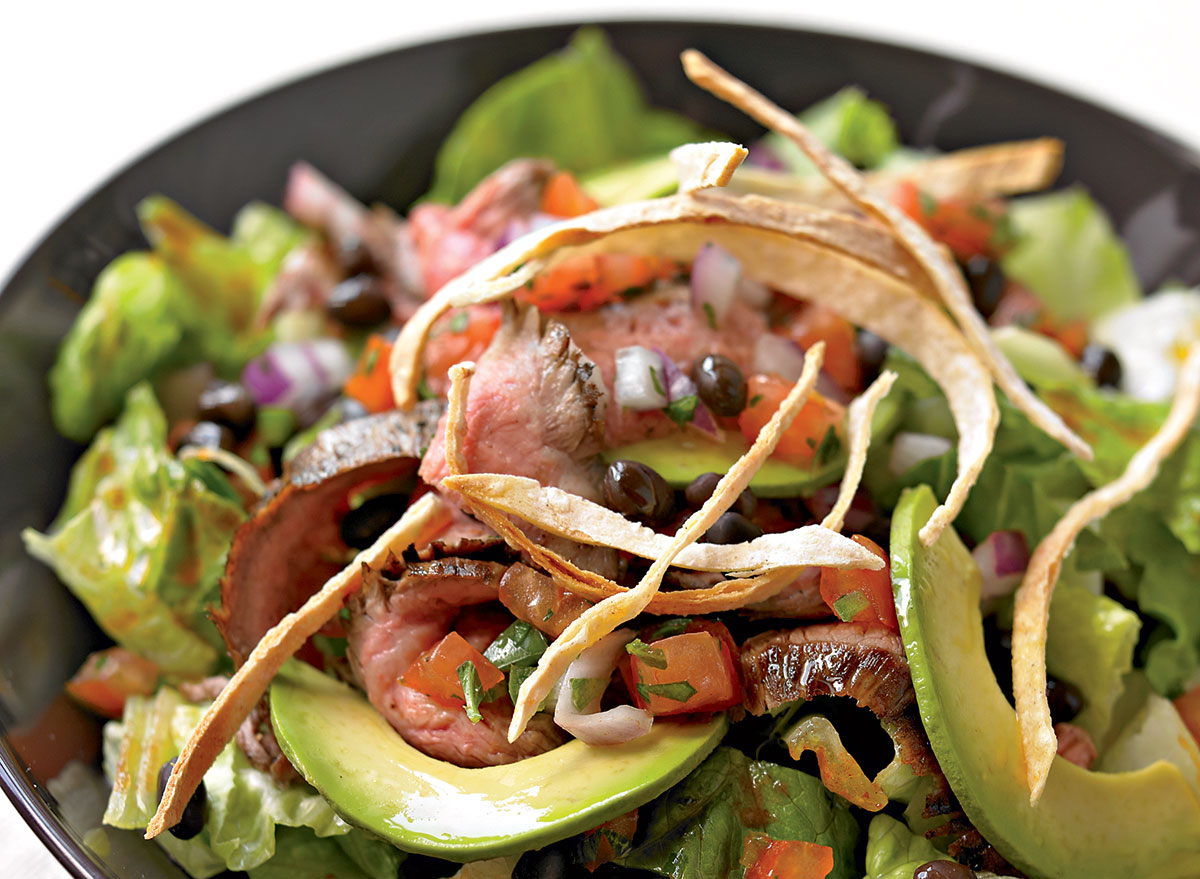 This salad brings all the classic Tex-Mex components you love like avocado, beans, and salsa. But also has a perfectly grilled steak, sliced and layered atop a bed of dressed lettuce. It's the perfect light lunch when you want to grill up some serious meat but skip the serious calorie load.
Get our recipe for Grilled Mexican Steak Salad.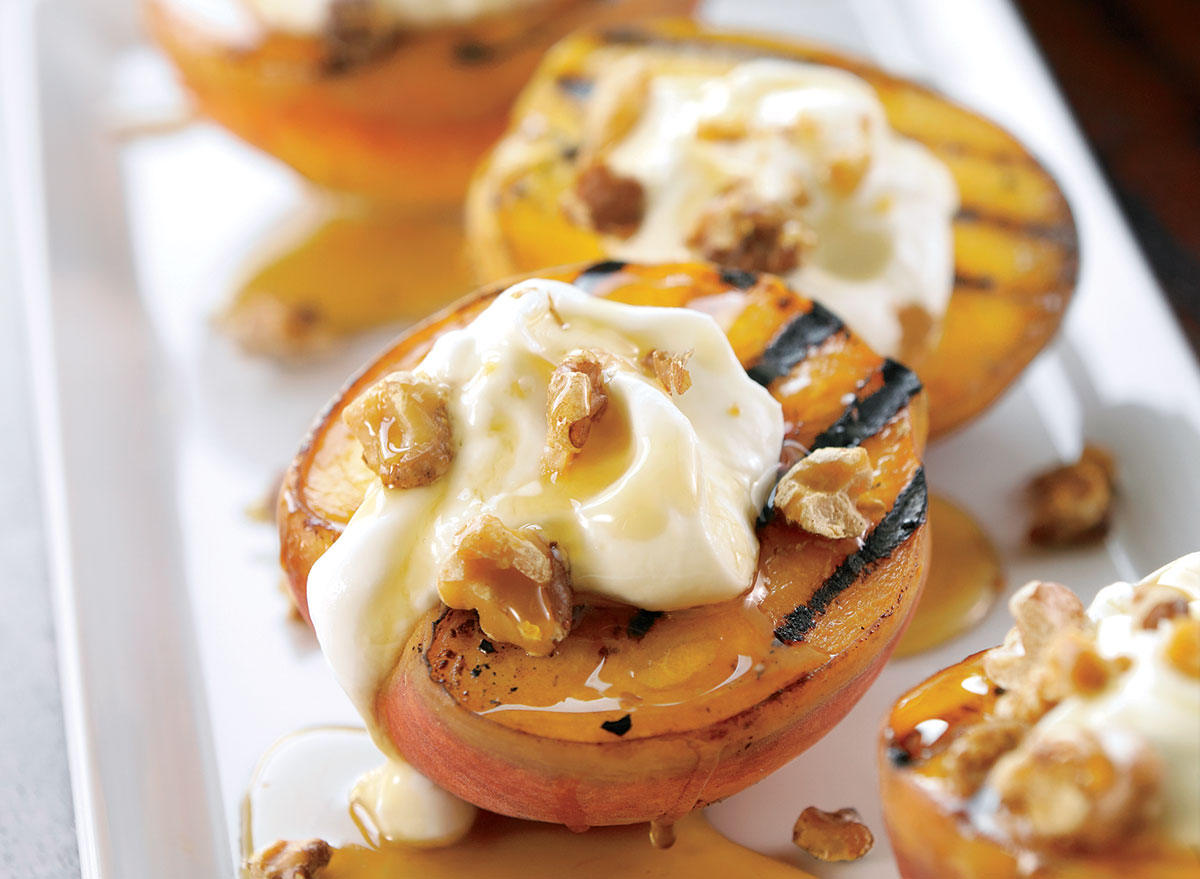 Mmmm… if you've never tasted jammy, warm apricots right off the grill, you're truly missing out on their versatile nature. This dessert is so decadent, you honestly won't believe you're also eating healthy!
Get our recipe for Grilled Apricots.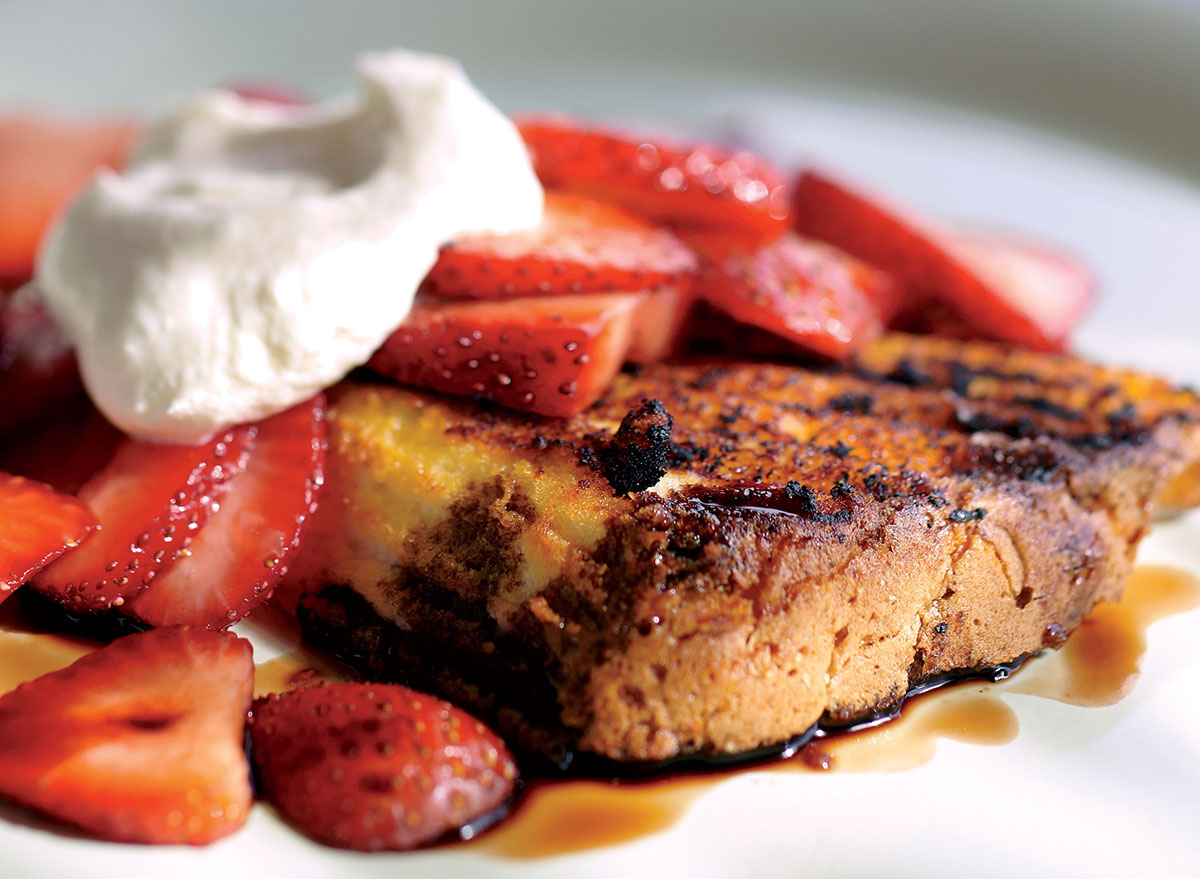 If the theme of your cookout is to grill all your courses from start to finish, may we nominate this candidate for dessert? Balsamic actually does something amazing to strawberries—it makes them sweeter! The grilled shortcakes will provide a perfect, spongy bed to soak up all the fruity juices.
Get our recipe for Grilled Strawberry Shortcake with Balsamic.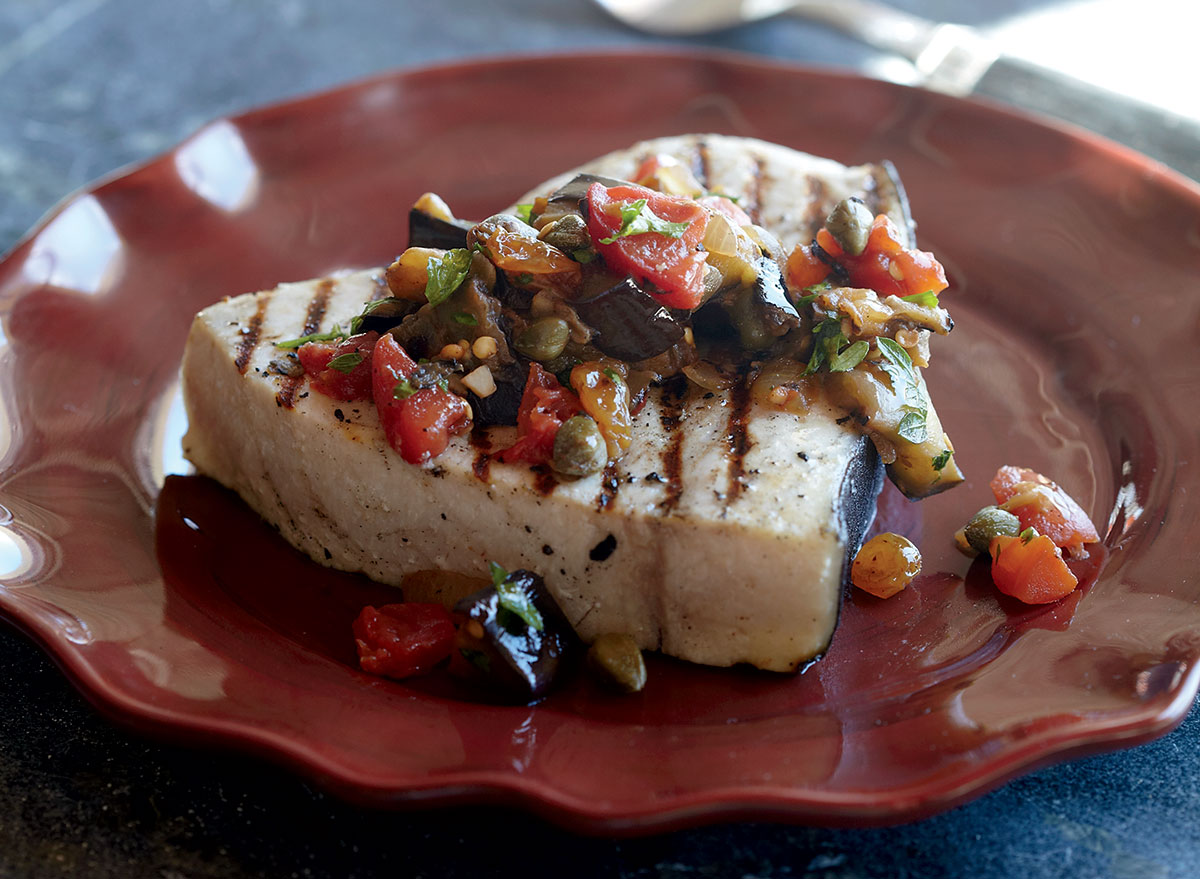 Swordfish is one of the best types of fish to grill because of its sturdy, steak-like texture. You'll top these beautiful steaks with a Sicilian caponata made of eggplant, onion, and olives, and you can forget all the other side dishes.
Get our recipe for Grilled Swordfish With Caponata.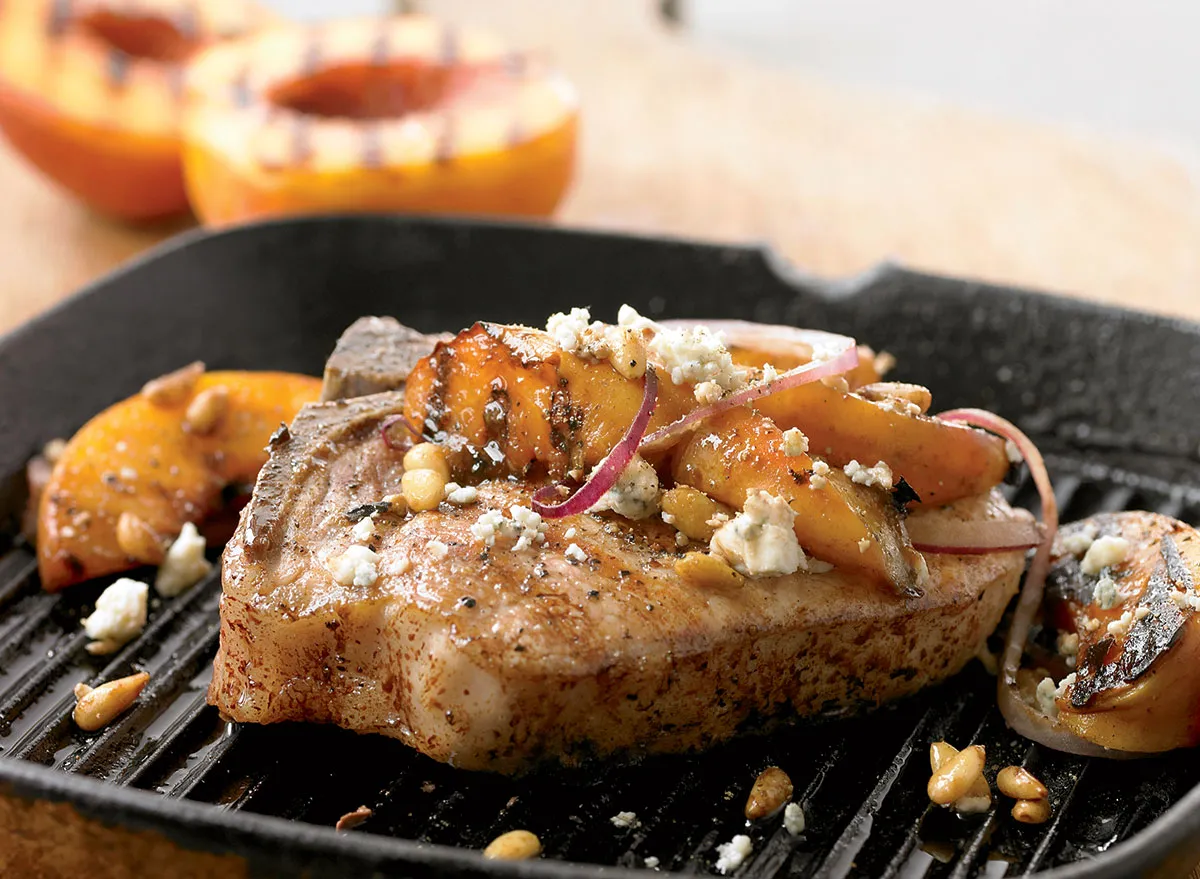 You'll want to get thick, bone-in pork chops for this recipe. Try to get them from the butcher instead of pre-packaged—the meat is always fresher this way. The grilled peaches and feta cheese create beautiful flavors without punching up the calories.
Get our recipe for Grilled Pork Chops and Peaches.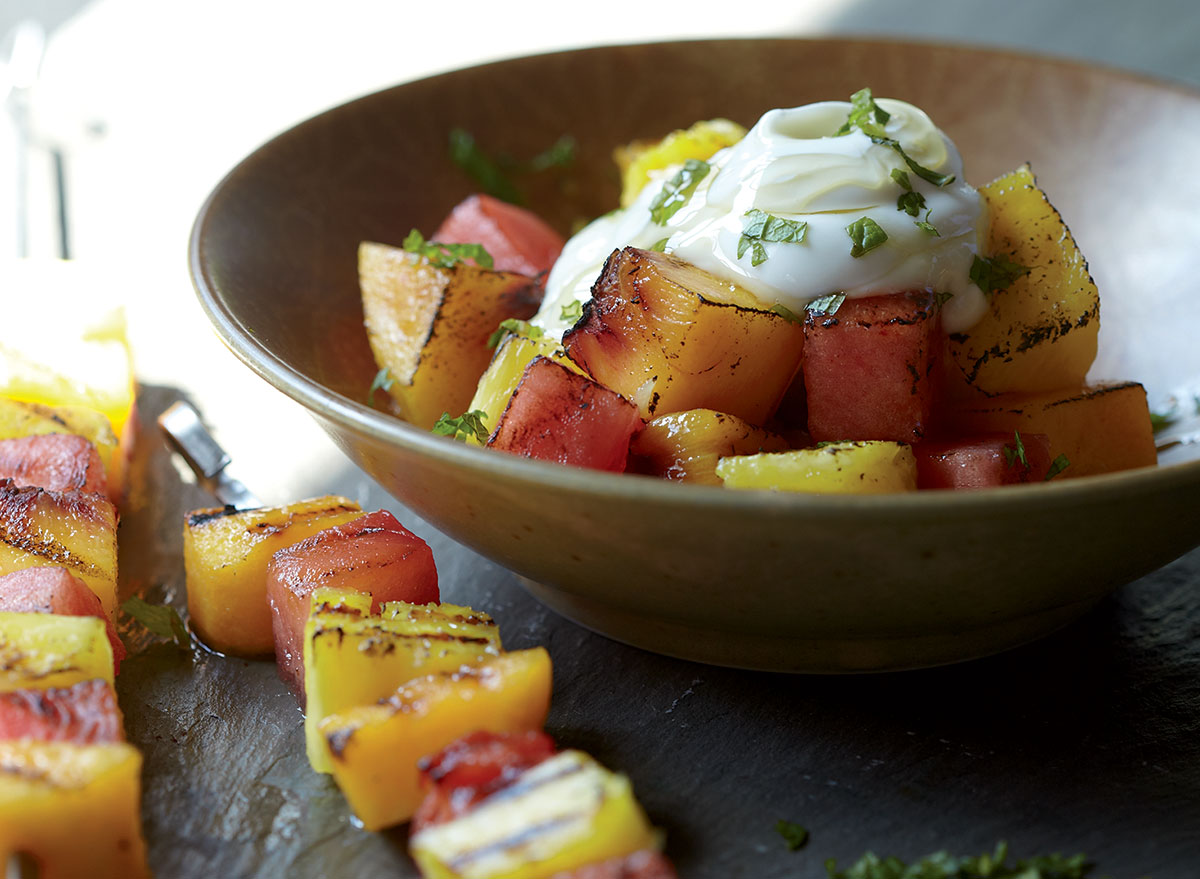 You don't need an excuse of a hunk of meat or an elaborate dessert to enjoy grilled fruits! Just string them onto skewers and top with a little yogurt sweetened with honey.
Get our recipe for Grilled Fruit Kebabs with Yogurt and Honey.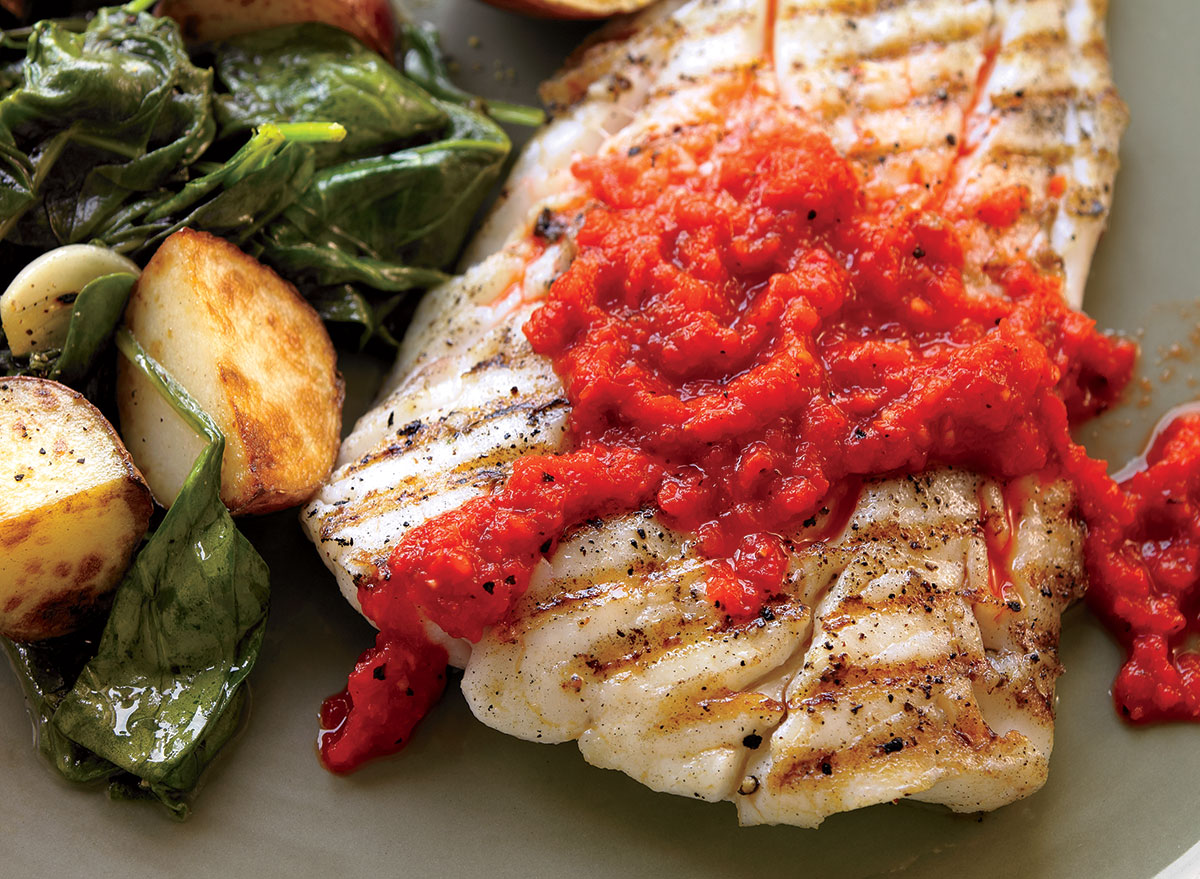 Mahi-mahi is another good fish candidate for the grill—it has a light but sturdy white meat that plays well with most flavor combos you choose to pair it with. Here you'll top it with a spicy red pepper sauce, also known as harissa. Although you can make this simple version at home, store-bought Harissa would work just as well.
Get our recipe for Spicy Grilled Mahi-Mahi with Red Pepper Sauce.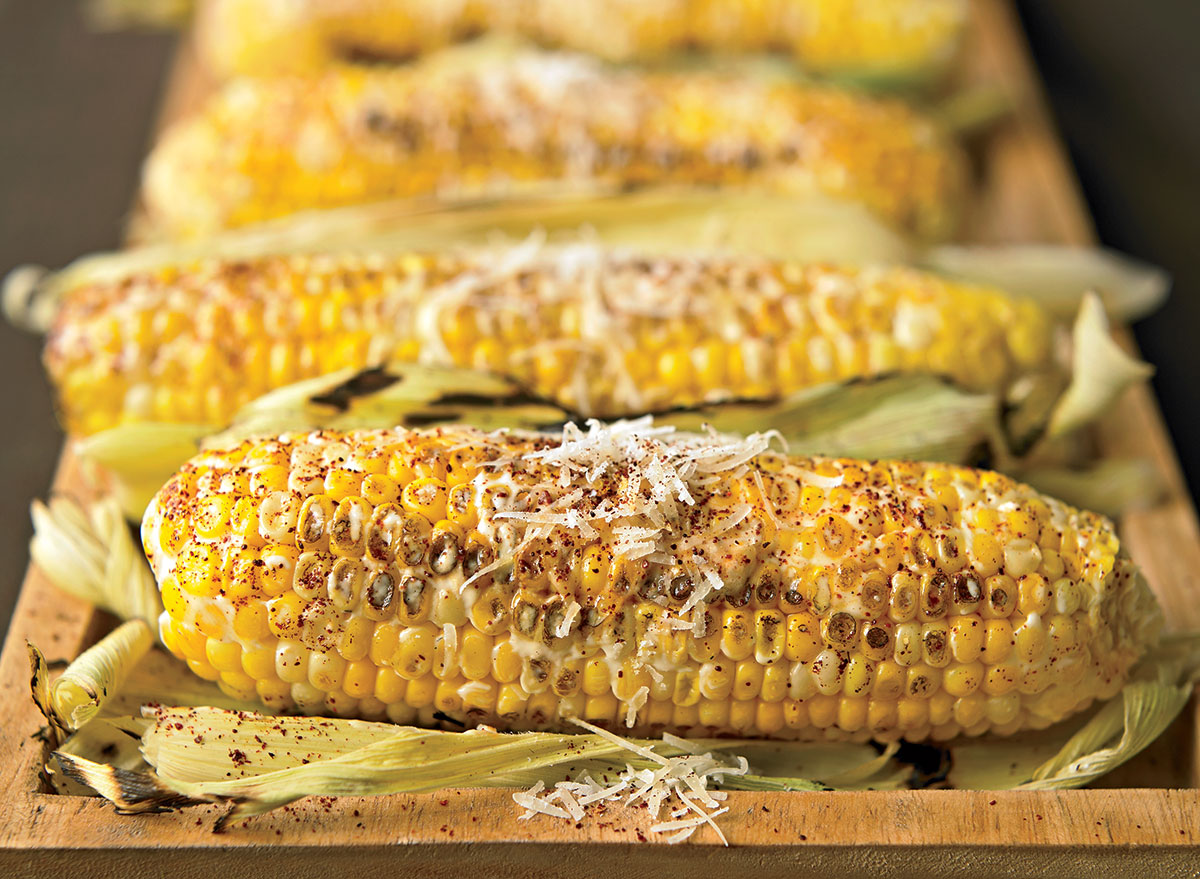 Nothing says "summer" like the appearance of sweet, young corn at the farmers' markets. Grilled corn is a classic grilled side dish, and this version, which is slightly spicy and zesty, doesn't disappoint.
Get our recipe for Grilled Mexican-Style Corn.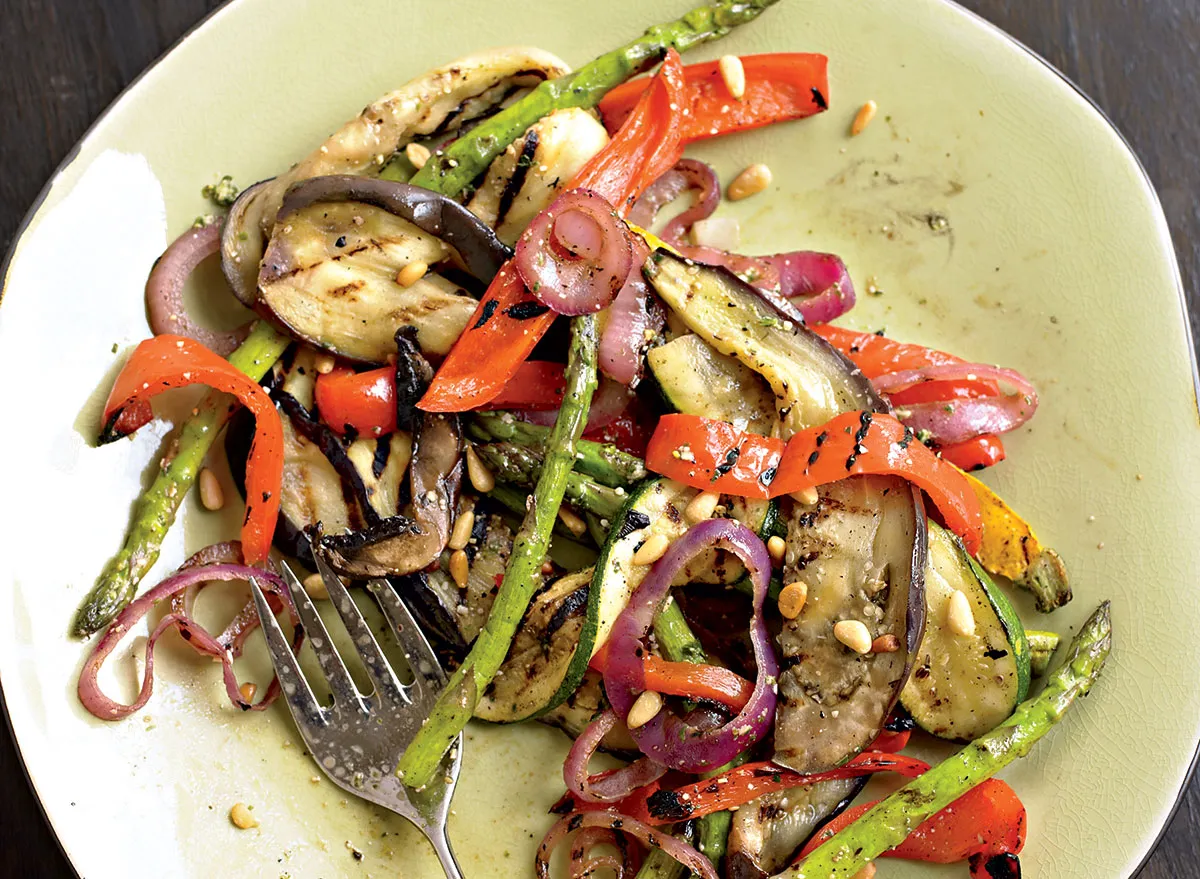 Grilled vegetables are hard to mess up, as long as your grill is sufficiently hot. If you're looking for ways to make a hearty veggie side dish to your grilled meats, this bright grilled medley reminiscent of ratatouille is just what you need.
Get our recipe for Grilled Ratatouille Salad.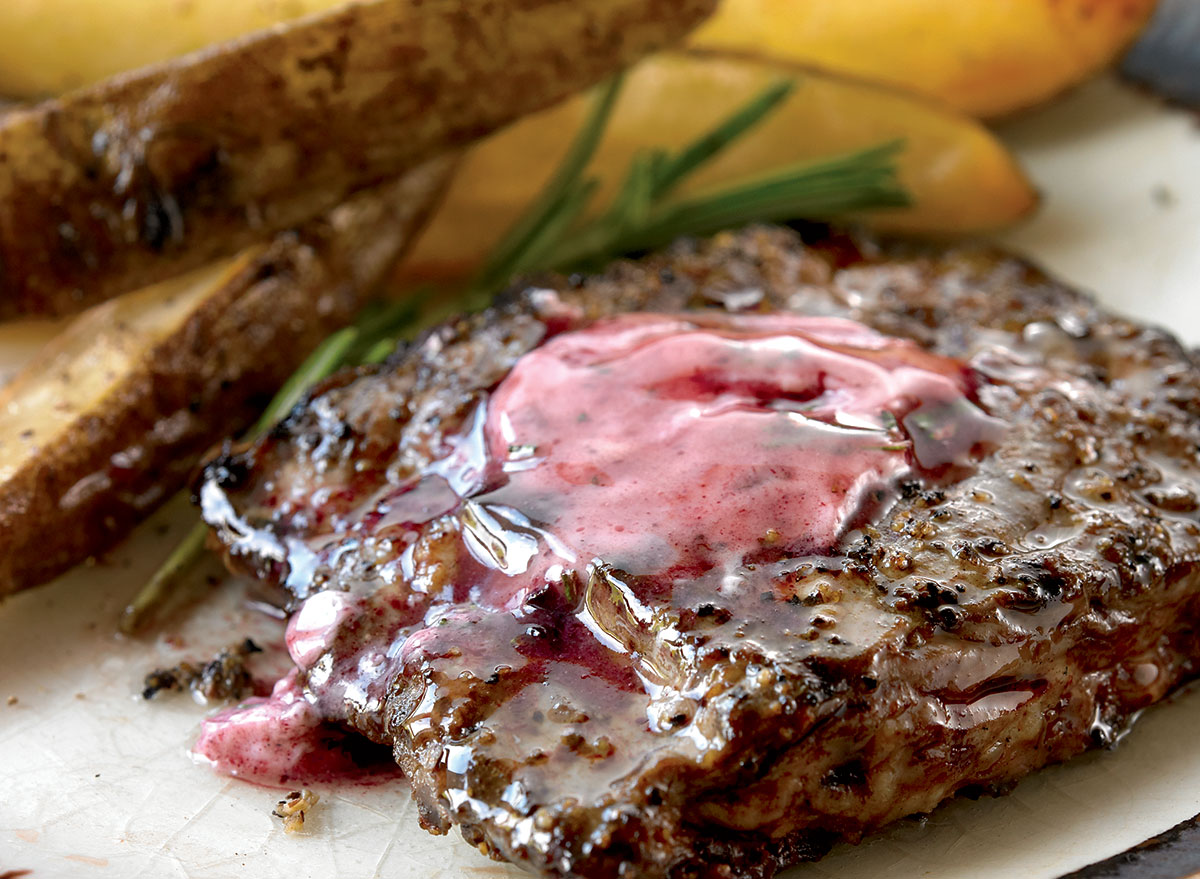 Grilled steak is pretty perfect on its own, but add a chunk of zhuzhed up butter on top, and you've got yourself a gourmet steak.
Get our recipe for Grilled Steak with Red Wine Butter.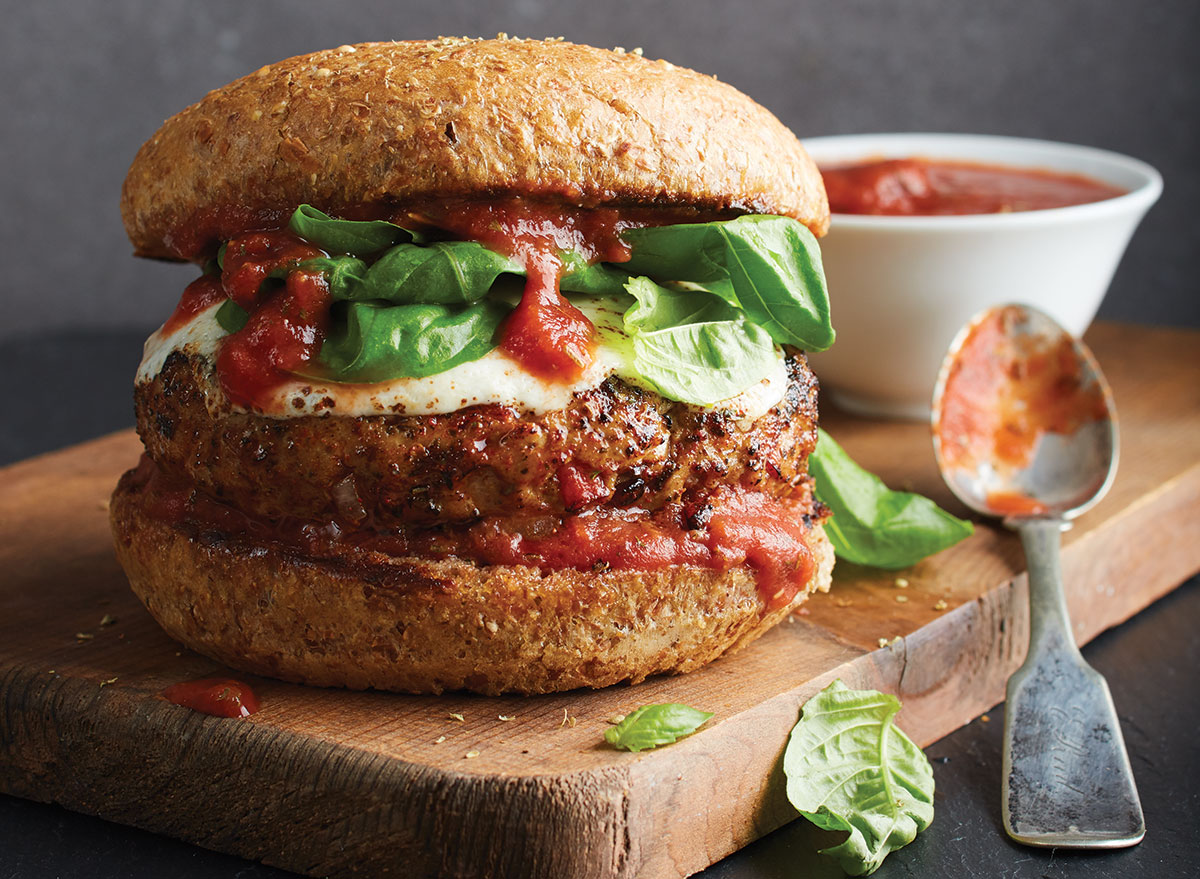 This extremely non-boring turkey burger has all your favorite pizza components—tomato sauce, melty mozzarella, and basil. Use this recipe when you need to change up your grilled burger routine.
Get our recipe for Grilled Pizza Burger.
Marinating a leg of lamb in yogurt will ensure tender meat under the crispy grilled exterior. To make a sandwich reminiscent of a Greek gyro (but better), stuff the meat in warm pita pockets with hummus, tomatoes, onions, and hot sauce.
Get our recipe for Grilled Lamb Gyros.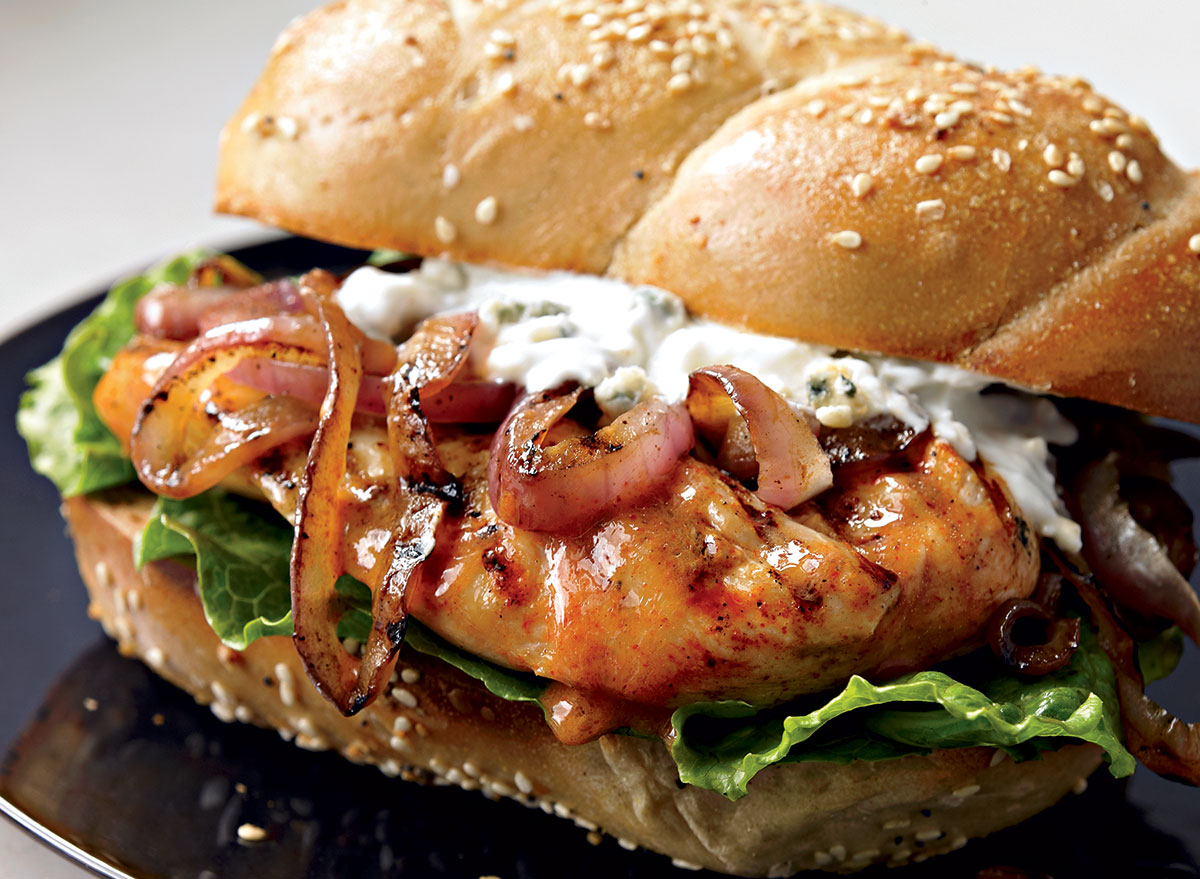 Another way to make a really excellent grilled chicken sandwich is to baste the chicken in hot sauce and butter after grilling. It'll provide flavors similar to Buffalo chicken, which you'll dress even further with a yogurt-based blue cheese sauce. Yum!
Get our recipe for Grilled Buffalo Chicken and Blue Cheese Sandwich.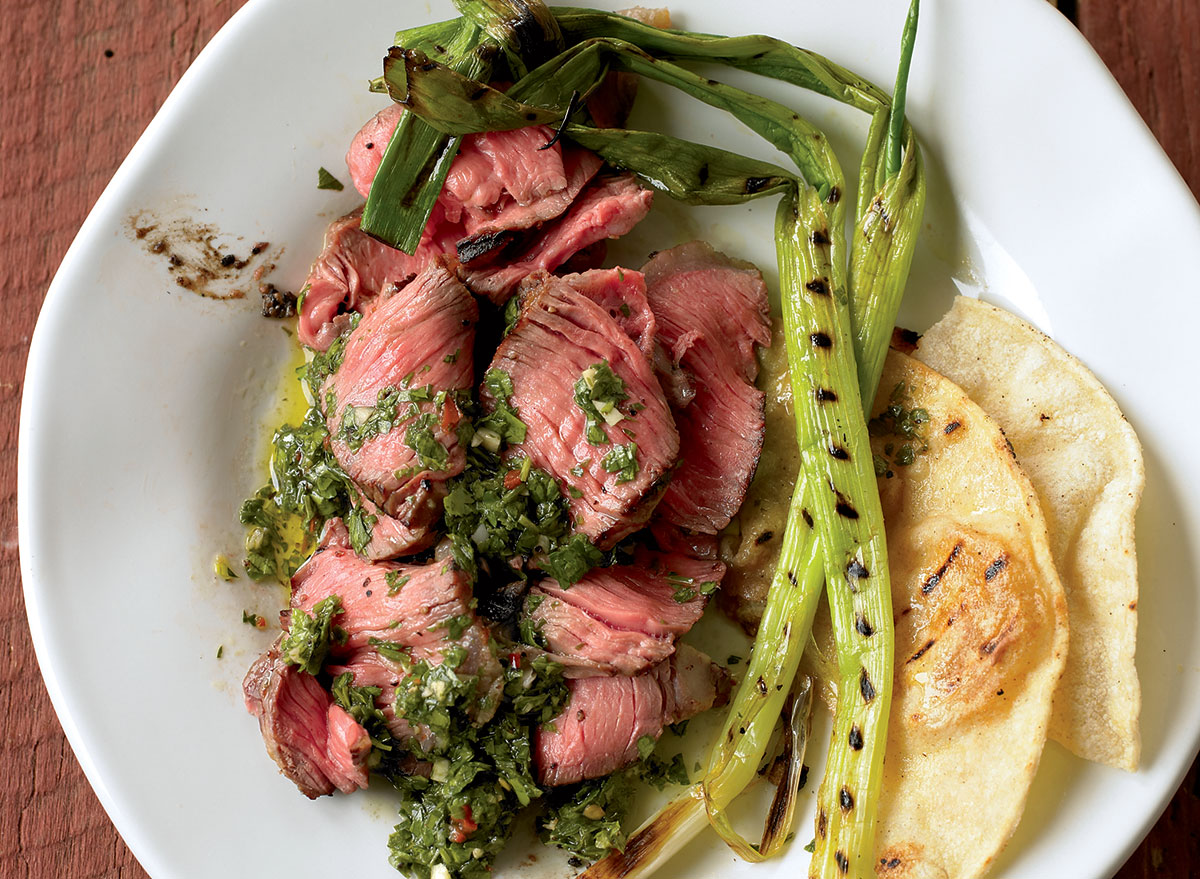 Take a page out of Argentina's book and top a perfectly grilled steak with chimichurri, a bright herbal sauce that plays the role of steak sauce. It's one of the most delicious (not to mention healthy) condiments on the planet. Serve this flank steak with grilled scallions, pinto beans, and warm corn tortillas as a perfect replacement for fajitas.
Get our recipe for Grilled Flank Steak With Chimichurri. 
Turn a sirloin steak into skewers with veggies and a delicious punchy hoisin sauce. This one was inspired by Japanese grill masters, but you'll realize the language of good flavors speaks to us all.
Get our recipe for Grilled Hoisin Beef Kebab.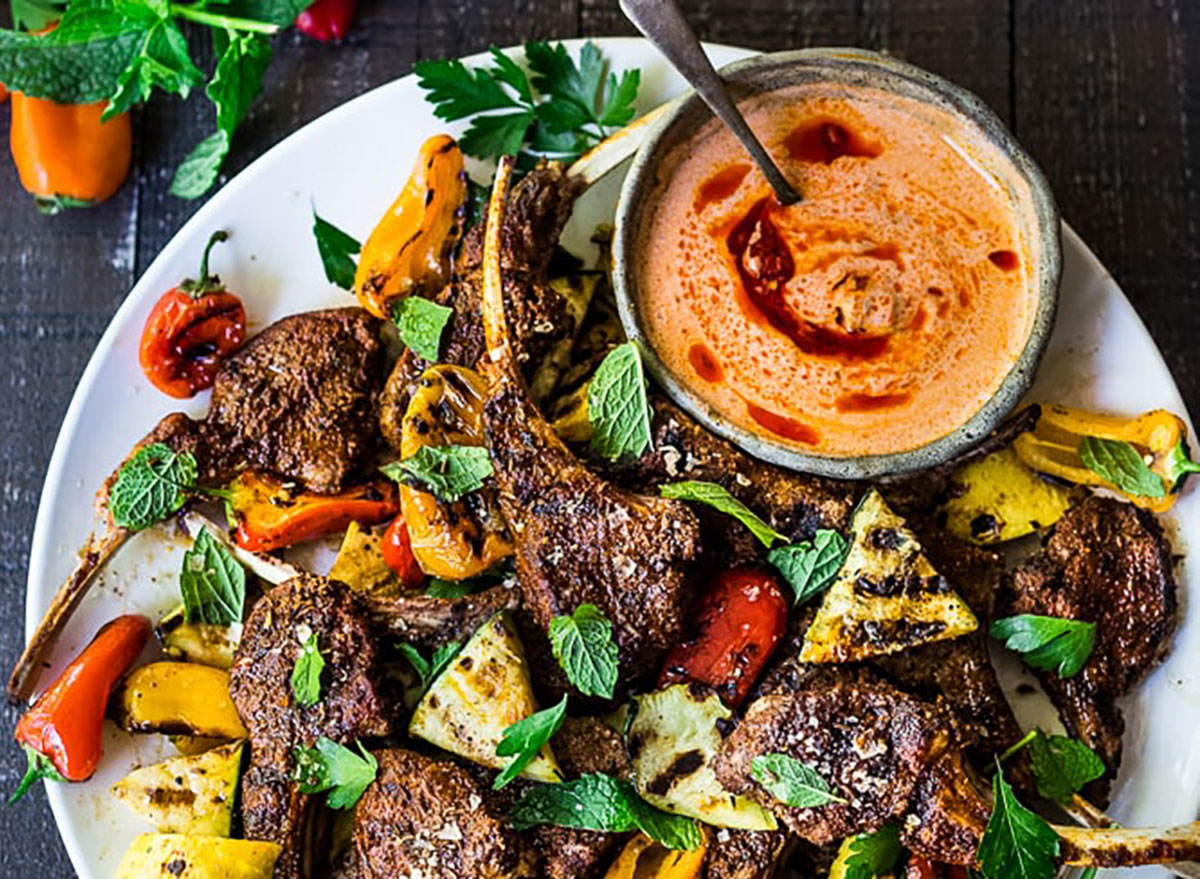 Throwing a backyard feast? Time to impress your family with your pitmaster skills. Lamb chops are actually pretty simple to grill and don't require a lot of time. Rub them with a spice mixture and serve with a spicy yogurt sauce and grilled summer veggies like zucchini and squash.
Get this recipe from Feasting at Home. 
You can have your pizza and grill it too! You'll grill the dough first, then flip it and add all your toppings while it gets crispy on the bottom. Don't forget to cover your grill with a lid to allow for the cheese to melt.
Get this recipe from Ambitious Kitchen.
There truly is something transformative about the way a banana emerges from a grill grate. The warm caramelized fruit adds a layer of sexiness to the classic split, especially in the way the heat of the banana plays off the chill of the ice cream.
Get our recipe for a Grilled Banana Split.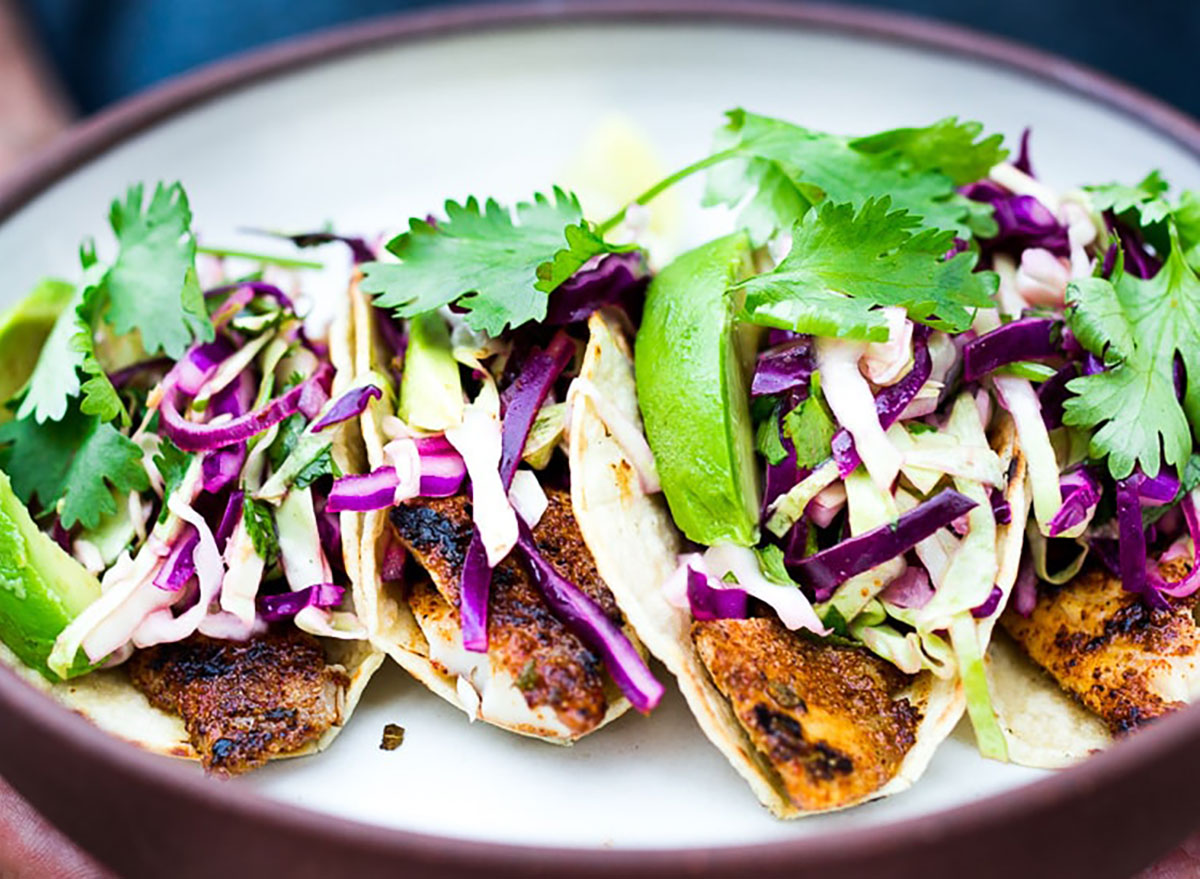 Tacos are the ideal summer food to plan for your next barbecue party. They can easily feed a crowd and once you grill the fish you can dress them with simple sides that don't require much prep: cabbage slaw, sliced avocado, and a squeeze of lime juice.
Get the recipe from Feasting at Home.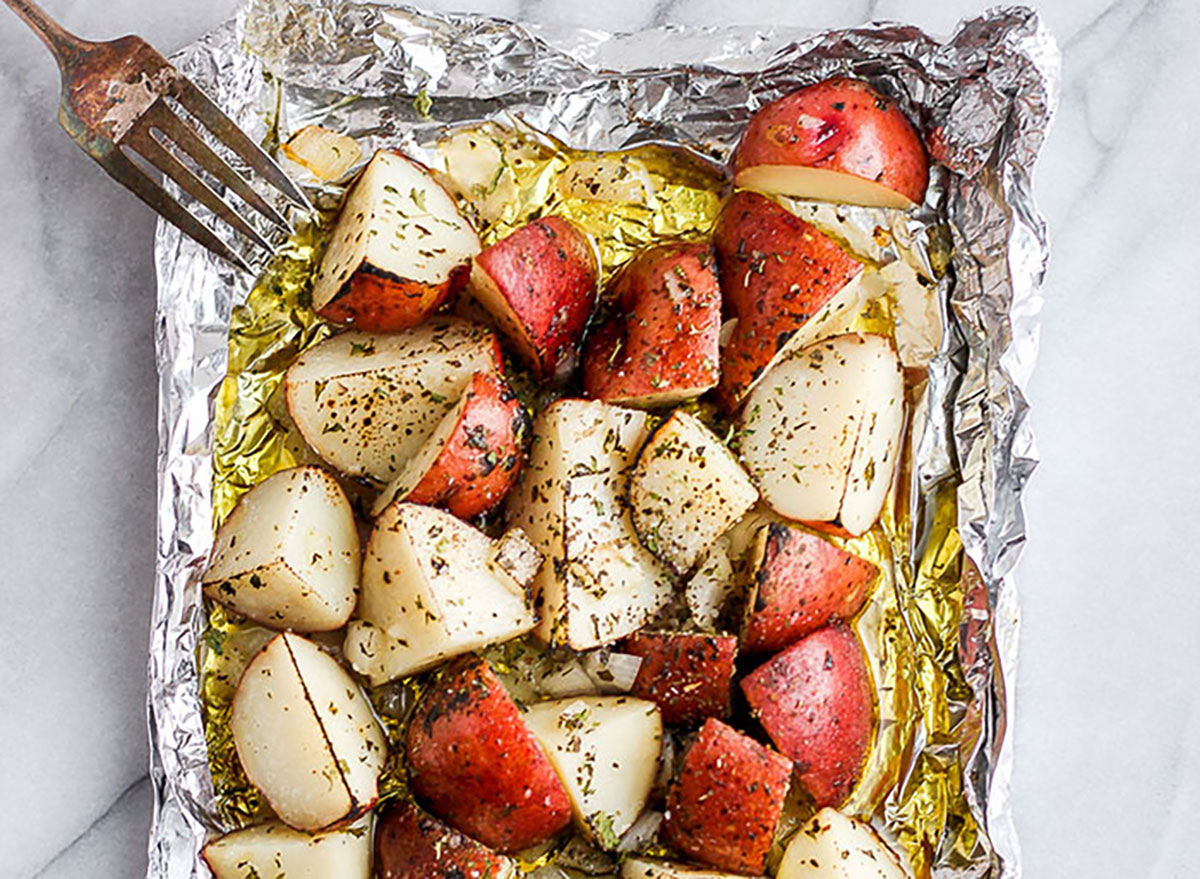 If you're a steak and potatoes type of gourmand, you'll love the fact that you can make your potatoes on the grill, too. This recipe packs spiced potato wedges into a foil packet, and while all your other grilled food will come out charred and crispy, these beauties will emerge all buttery and tender.
Get the recipe from Fit Foodie Finds. 
Eggplant gets the royal treatment here with a dose of jerk sauce. You'll truly be hard-pressed to find a more flavorful way to prepare this nightshade. Serve it over a bed of rice as a side to your meat.
Get the recipe from Minimalist Baker.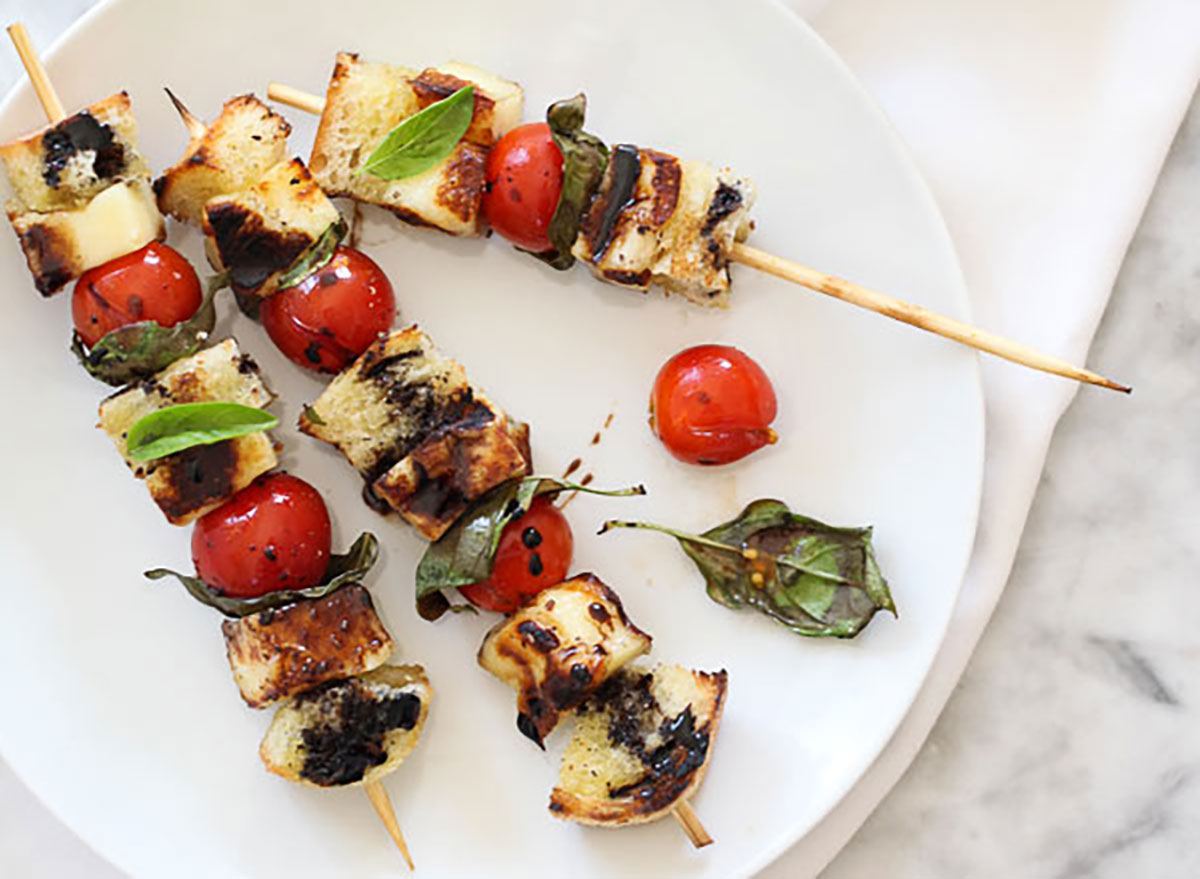 Grilling cheese can turn into a messy disaster if you don't have the right type of cheese. This recipe calls for halloumi, a semi-hard Mediterranean cheese whose texture and flavor lend themselves perfectly to a grilled skewer. Make the grilled cheese the star of the show by drizzling it with olive oil and flaky sea salt and eating it as a main protein with a side of veggies.
Get the recipe from Foodie Crush.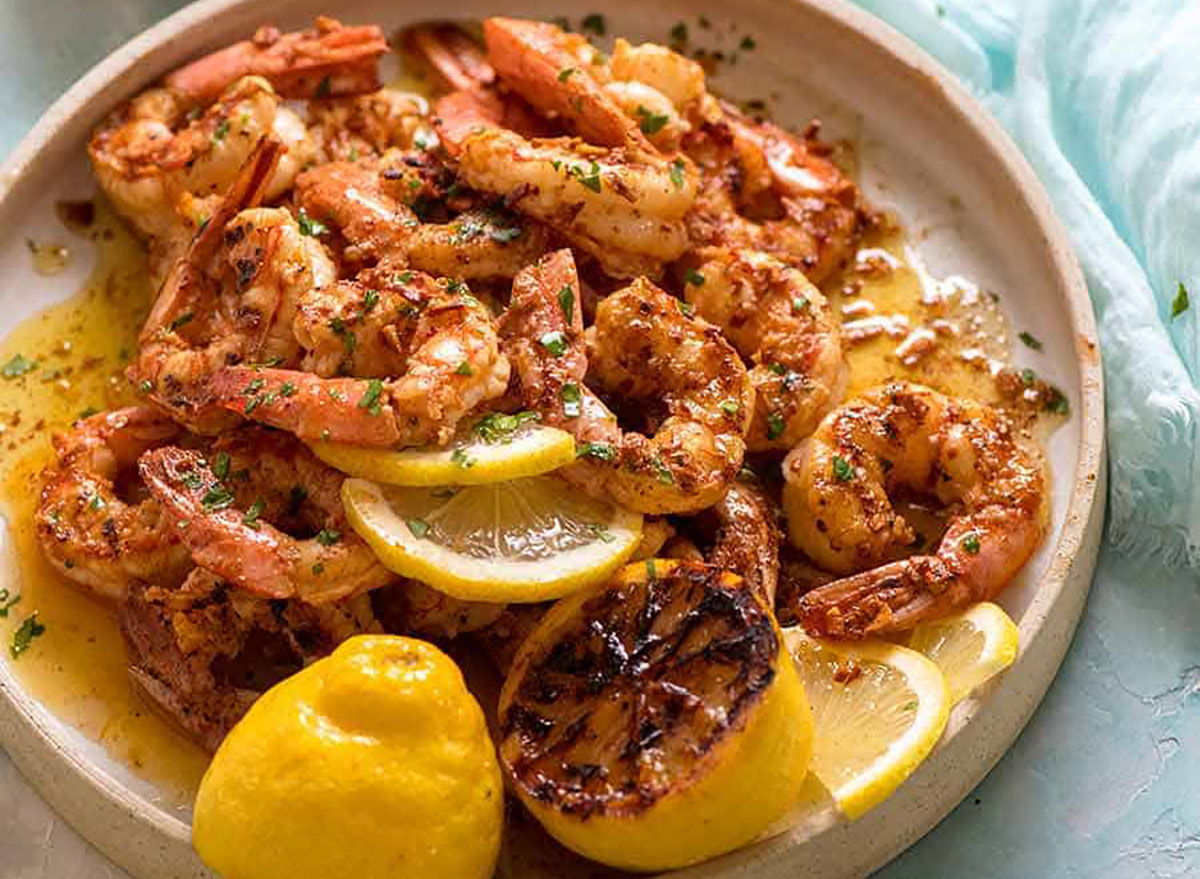 These shrimp get double the flavor—they're dry-rubbed with spices before they hit the grill, then drizzled with a butter-garlic-lemon sauce for extra brightness. We honestly can't think of a more delicious way to eat them.
Get the recipe from Recipe Tin Eats. 
Thighs are probably the best part of the chicken to grill—they're much more flavorful than chicken breast, and they stay juicy during cooking (try to get them skin-on if you can, for extra crispy goodness). This recipe calls for a marinade and a short, high-heat session on the grill.
Get the recipe from Diethood.
Homemade garlic bread is easy, and grilling it is probably the easiest way to make it. You'll split a bread loaf lengthwise and brush it with a butter-garlic mixture, then place it face-down on the grill until you start smelling garlic and getting a nice crispy surface. So good!
Get the recipe from Recipe Tin Eats.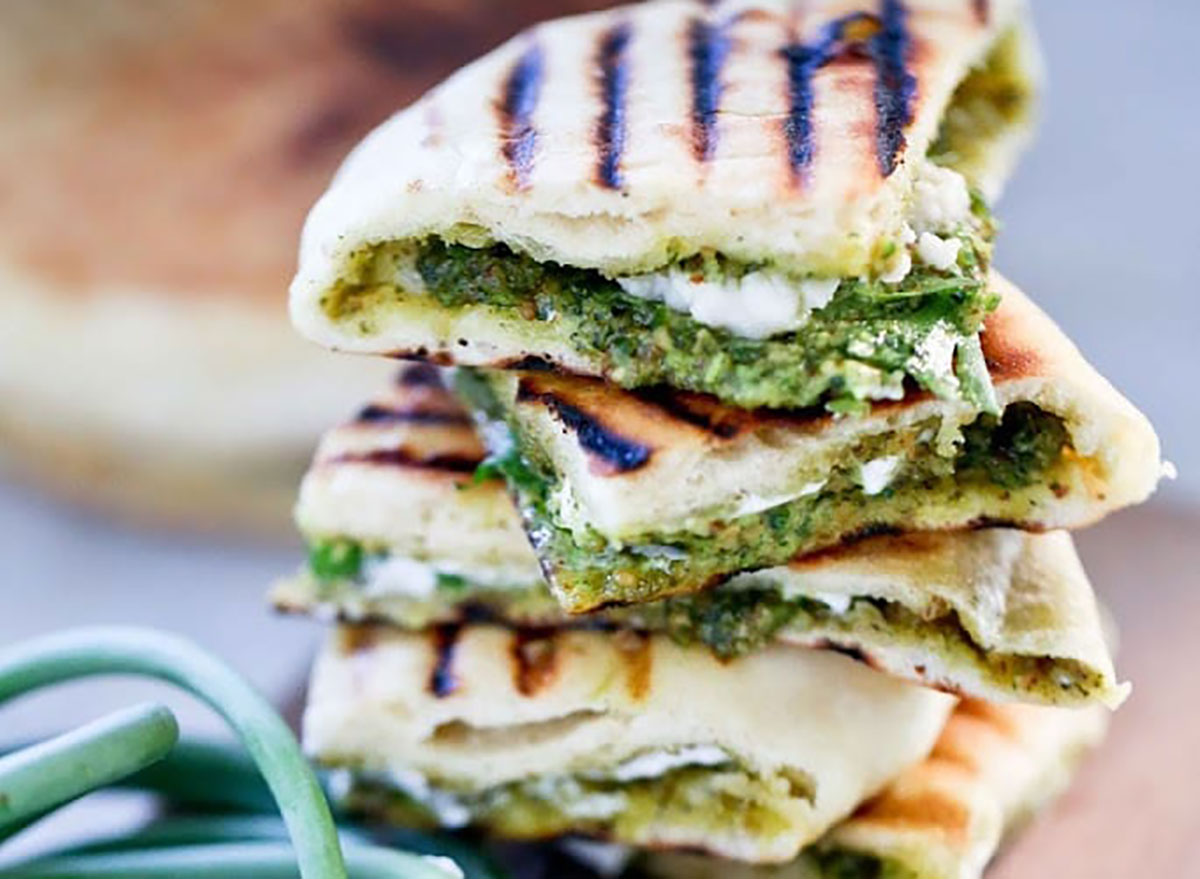 Naan is another easily grillable bread, and these chutney "sandwiches" would go perfectly with grilled meat or a spicy tandoori chicken.
Get the recipe from Feasting at Home.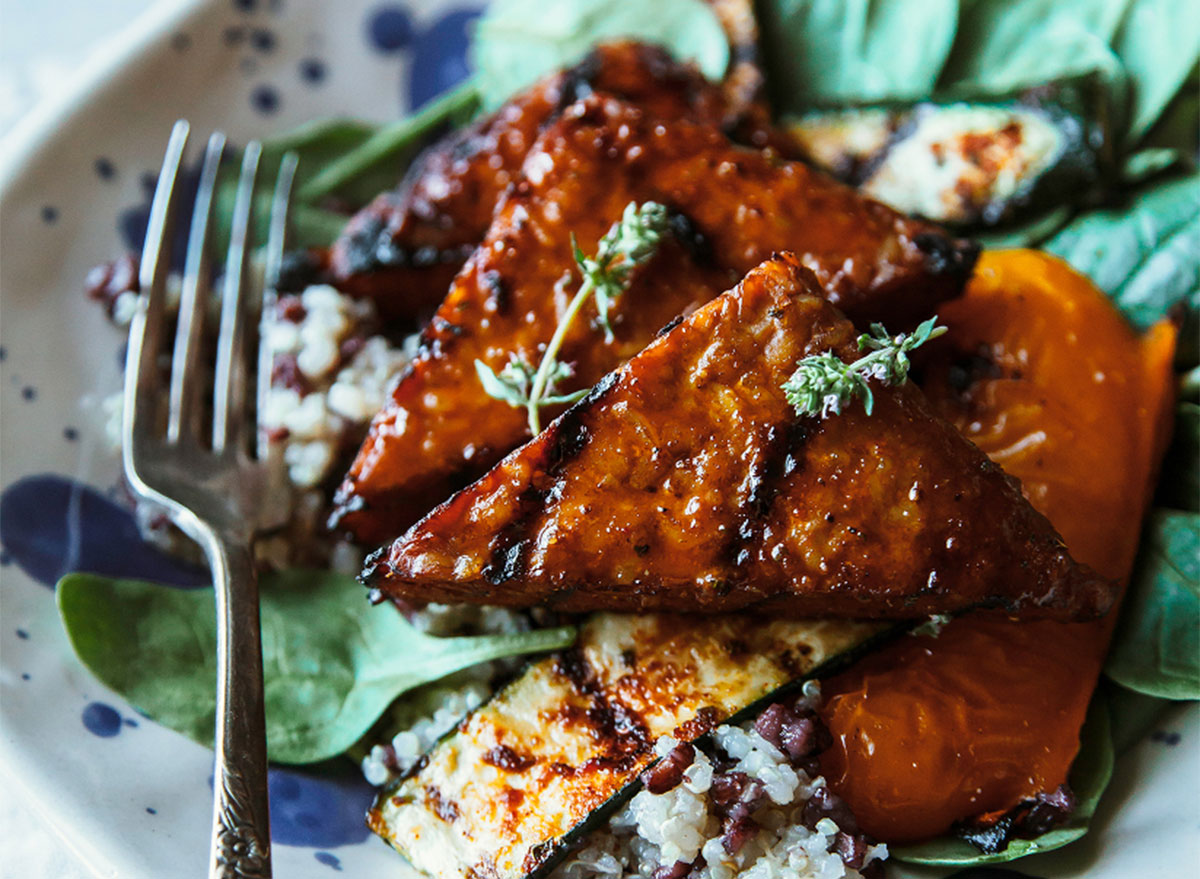 Tempeh is one of those ingredients that rarely come to mind when you're choosing your grilling lineup, but that shouldn't be the case! Thick chunks of tempeh do really well in absorbing flavor from marinades, and they stay firm and compact when grilled at high heat.
Get the recipe from The First Mess.