Extreme Summer Heat Can Damage Your Eyes: 4 Precautions You Must Take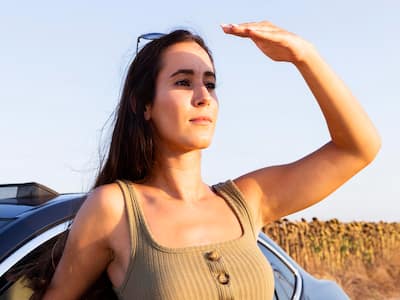 Many parts of India are grappling with extreme temperatures and the climate could get worse. Here are some tips on how we can protect our eyes.
Summer season in India comes with unbearable heat waves. Heat waves not only impact our health skin and hair but also our eyes. This organ is constantly exposed to dirt, pollution, hot air, sun rays and UV rays. Hence, it is bound to have some repercussions. As the mercury levels rise, we take precautions to protect our skin and health. We should do the same for our eyes. Prolonged exposure to heat and UV rays can severely impact them. One of the most common eye problems faced by people during a heat wave is dry eyes. However, there are other eye problems we might face such as stye, conjunctivitis and eye allergies.
According to reports, states of Northern India are experiencing a severe heat wave. This is the time to be aware of the impacts and also know how to protect your eyes from harm.
Heat Wave Can Exacerbate Eye Diseases
UV rays are as harmful for our eyes as they are for our skin. It can increase the risk of eye diseases like cataract or cause retinal damage. Aside from that, extreme heat and UV rays can also cause allergies in our eyes which can range from mild symptoms to swelling and watery eyes. Infective conjunctivitis, especially viral is very common during this season. Cataracts, macular degeneration (a leading cause of blindness) and cancer can all be caused by excessive heat exposure for long duration.
Eye Problems We Might Face During Heat Waves
Dry Eyes:Dry eye problem is very common during summers because of low humidity in the atmosphere, extreme heat, use of AC and fans. The symptoms can be redness in the eyes, gritty and sore yes, watery eyes and sensitivity to light.
Stye: Stye infection is cause by bacterium. The symptoms are swelling in both eyelids along with pain, swelling and redness.
Pterygium/Pinguecula: Sunlight can cause sunburn, but it can also cause a pterygium or a pinguecula if you don't protect your eyes from harmful UV rays.
How To Take Care Of Our Eyes In Summers?
Taking care of your eyes in the summer is just as important as it is the rest of the year. You should still adhere to the same eye care guidelines, such as:
Wash your hands before handling contact lenses
Wear the appropriate eyewear when participating in certain sports and activities.
During the summer, it is critical to wear sunglasses to protect your eyes.
Keep washing your eyes with cold water to keep them cool.
Total Wellness is now just a click away.
Follow us on