Telemedicine: Unlocking The Potential For Affordable And Accessible Healthcare In India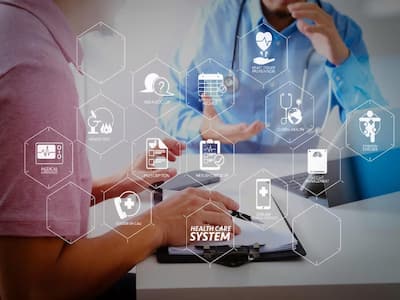 While NHM has helped shore up MBBS doctors in primary health centres, there is a whopping 80% shortfall of specialist doctors.
Telemedicine has long been an idea with potential but has yet to become mainstream in India. COVID-19 has provided the push to catapult it to one whose time has come. What started as an experiment by ISRO in 2001 had hitherto remained one. But, in times of contagion, healthcare providers increasingly relied on tele-consultations. With work from home becoming the new normal, using telemedicine to access healthcare remotely has become commonplace. Dr Sabahat S. Azim – the Founder and Chairman of Glocal Healthcare Systems, explains how hospitals have successfully used telemedicine to bring efficiency and connect with specialists. Still, its most significant potential lies in delivering primary healthcare (our first interaction with the health system).
Using Telemedicine
Unknowingly, many of us have been using the idea of telemedicine. Most of us in the cities routinely call up friends and relative doctors for trivial and non-emergency health conditions. Telemedicine makes sense even in normal circumstances for the urban population in metros. Who wants to drive in traffic to reach a clinic or hospital, struggle for parking, and wait hours for a doctor consultation? This is equally exasperating for your doctor.
While telemedicine may be convenient for the metro-dwelling middle-class population, it is the only hope for affordable quality healthcare in rural India. Today, 80% of doctors live in urban areas, catering to only one-third of the population in India. The vast majority in villages and urban slums are served by the ubiquitous "Bangali Doctor" or an unqualified "quack" and have high medical expenditure. It is no wonder 55 million people in India are impoverished yearly due to health-related spending.
No amount of incentives or penalties will force doctors to go to rural areas. We must understand their predicament before condemning the medical fraternity for this heartless betrayal. Becoming a doctor, especially in India, is callous and competitive. Once doctors acquire a medical degree through several years of hard work and endurance, why do we want to relegate them to a life of misery devoid of basic amenities and entertainment?
Just like the rest of us, doctors, too, are rational human beings and aspire for a better life after their share of hard work. Using telemedicine, doctors in cities can serve the rural population in the convenience of their homes. Not all MBBS doctors can enrol for higher studies, as fewer seats are available. Telemedicine also offers an avenue to doctors who need help to earn a living in a city with an oversupply of more qualified doctors.
Potential Of Telehealth
The government has realized the potential of telehealth to achieve Universal Health Coverage. The government of India has developed eSanjeevani, the national telemedicine platform that has become the world's most extensive documented telemedicine implementation for primary healthcare, serving over 114 million patients. It leverages existing public health infrastructure and doctors to offer remote primary healthcare in rural India. However, public healthcare facilities need more doctors.
Summary
While NHM has helped shore up MBBS doctors in primary health centres, there is a whopping 80% shortfall of specialist doctors. Several state governments have partnered with the private sector to harness the best telehealth technology, workforce and doctors.
Andhra Pradesh operationalized e-PHCs in partnership with e-Vaidya.
Odisha used digital dispensaries run by Glocal Healthcare to offer primary health care in remotest areas.
Madhya Pradesh uses telemedicine to provide specialist consultations in its PHCs in partnership with Glocal Healthcare.
Conclusion
These digital clinics are run by nurses or lab technicians, who can do diagnostic tests, facilitate video consultations and provide medicines. This is a viable model for ensuring universal health coverage. Unreliable power, poor internet connectivity and lack of trained workforce still pose challenges, but they are improving steadily. Significant investment in marketing, customer education and behaviour change is required to build acceptance towards remote health solutions. Until then, the expansion would be driven by government support.
Total Wellness is now just a click away.
Follow us on
Don't Miss Out on the Latest Updates.
Subscribe to Our Newsletter Today!