The 9 Healthiest Dishes to Order at Red Lobster
If you're looking for a delicious seafood meal at affordable, fast-casual prices, Red Lobster has what you seek. But while the restaurant chain may be able to satisfy your appetite for decadence without the hefty price tag, how feasible is it to order a nutritious, healthy meal at Red Lobster?
For over 50 years this franchise has continued to stand out from the competition by providing a relatively elevated dining experience and serving quality shellfish, fish fillets, and other coastal commodities to hungry consumers nationwide—including landlocked areas where these items can be harder to find. While the restaurant's signature offering is, of course, its premium fresh lobster selection, the Red Lobster menu also provides a diverse spectrum of proteins, veggies, and other delicious options that don't have to derail your diet or your health goals.
To help you choose a satisfying, healthy meal at Red Lobster, we spoke to a handful of dietitians to find out more about some of the healthiest menu options available at Red Lobster. Read on for their recommendations, then check out The Best & Worst Fast-Food Fish Sandwiches to Try Right Now.
510 calories, 32 g fat (9 g saturated fat), 1,630 mg sodium, 15 g carbs (0 g fiber, 3 g sugar), 40 g protein
"Out of the crustacean family, lobsters are the highest protein and provide the greatest amount of the omega-3 fatty acids EPA and DHA when compared to shrimp or crab," says Amy Goodson, MS, RD, CSSD, LD author of The Sports Nutrition Playbook and member of our Medical Expert Board. "And when paired with the flounder, which is a lean fish, you get a high protein meal without totally breaking the calorie bank."
Be advised that this dish (along with a few others on this list) may be low in calories and/or rich in nutrients, but it's a bit high in sodium. So, whether you have high blood pressure, a formal hypertension diagnosis, or you're simply trying to be more conscientious about your sodium intake, you'll want to pay attention to the other things you eat on the same day you plan to order this. You might also consider enjoying half at dinner and saving half for lunch the next day if you're concerned about too much salt.
560 calories, 23 g fat (4 g saturated fat), 2,710 mg sodium, 36 g carbs (4 g fiber, 10 g sugar), 53 g protein
"Shrimp is a very lean protein, and combined with a lean steak provides a reasonable amount of calories in this dish. However, a portion of steak really should be 3 to 4 cooked ounces," explains says Toby Amidor, MS, RD, CDN, FAND, an award-winning nutrition expert and Wall Street Journal bestselling author of The Family Immunity Cookbook.
"So, I would recommend splitting the sirloin, or if you are dining with your kids, then serve them a few ounces off your plate," says Amidor. "The sodium in this dish is off the charts at 2,710 milligrams, which is 117% of the daily recommended maximum. Complete the plate with non-fried veggie options which also makes the plate more plant-forward and those additional calories are not included in the calorie count of the dish."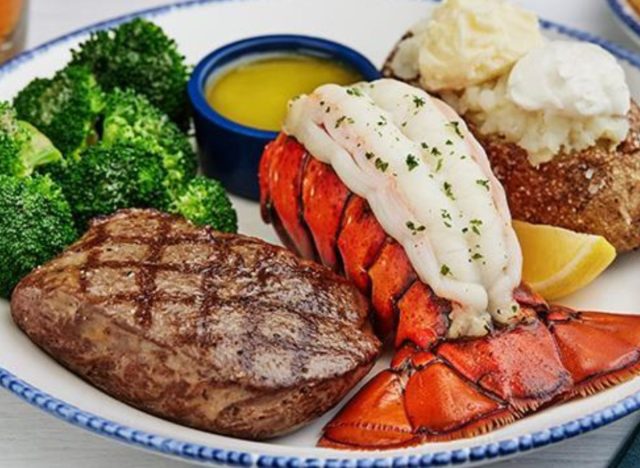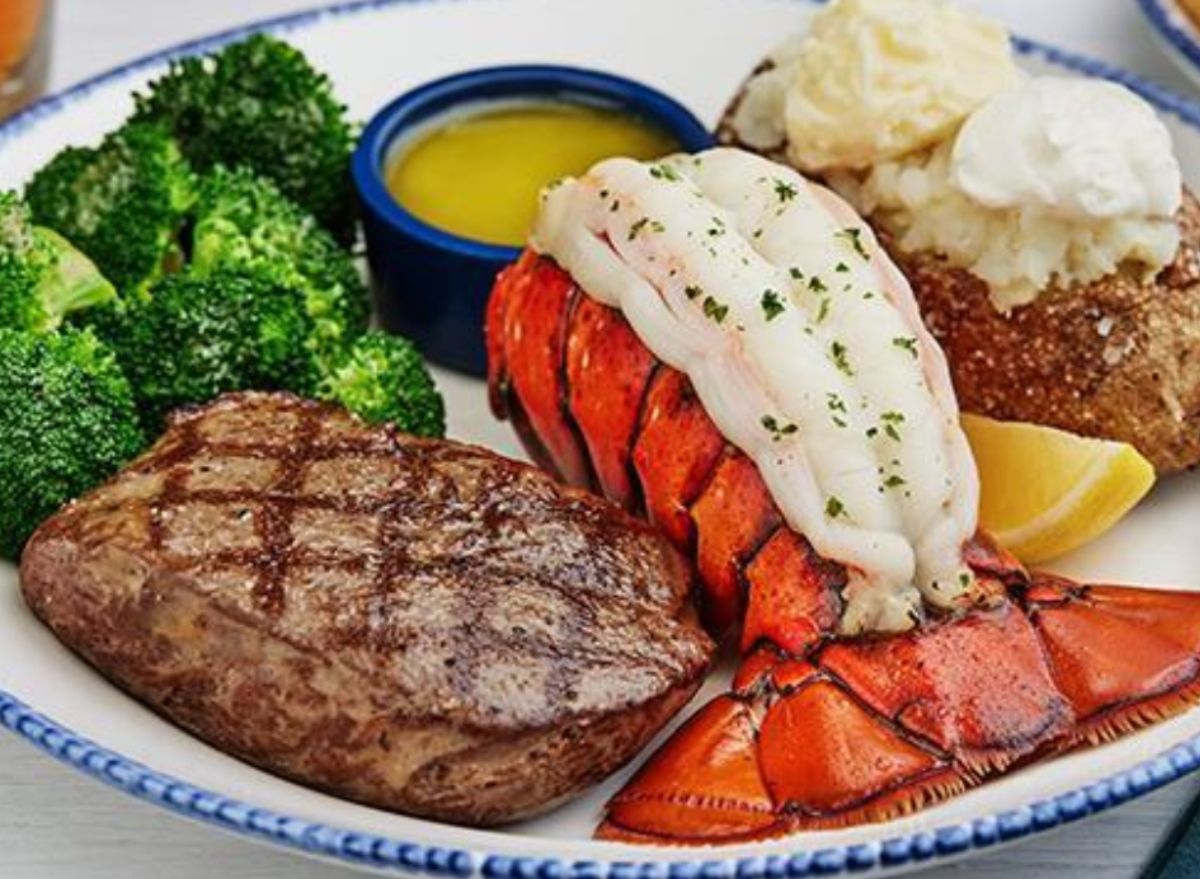 680 calories, 450 g fat (25 g saturated fat), 1,690 mg sodium, 2 g carbs (1 g fiber, 1 g sugar), 54 g protein
"These dishes are high in protein due to the sirloin and lobster or shrimp, which can help with satiety and muscle building," Trista Best, MPH, RD, LD, at Balance One Supplements, tells Eat This, Not That! "However, they may also be high in saturated fat and sodium, depending on how they are prepared."
"Although lobster and sirloin are lean proteins, when they are combined in this dish in large portions, you get a whopping 680 calories, 450 grams of total fat, 25 grams of saturated fat, 1,690 milligrams of sodium, and 54 grams of protein," says Amidor. "The amount of saturated fat is 125% of the total recommended daily max, while the sodium is 73% of the total recommended daily max. The saturated fat is also coming from the butter sauce used to flavor the lobster."
"It should also be noted that more protein at one meal isn't necessarily better as the body has a max amount it can use at one time (about 15–30 grams)," she adds. "I recommend getting either the lobster tail or the sirloin (and 3 to 4 cooked ounces is a serving), and complementing it with non-fried veggies on the side."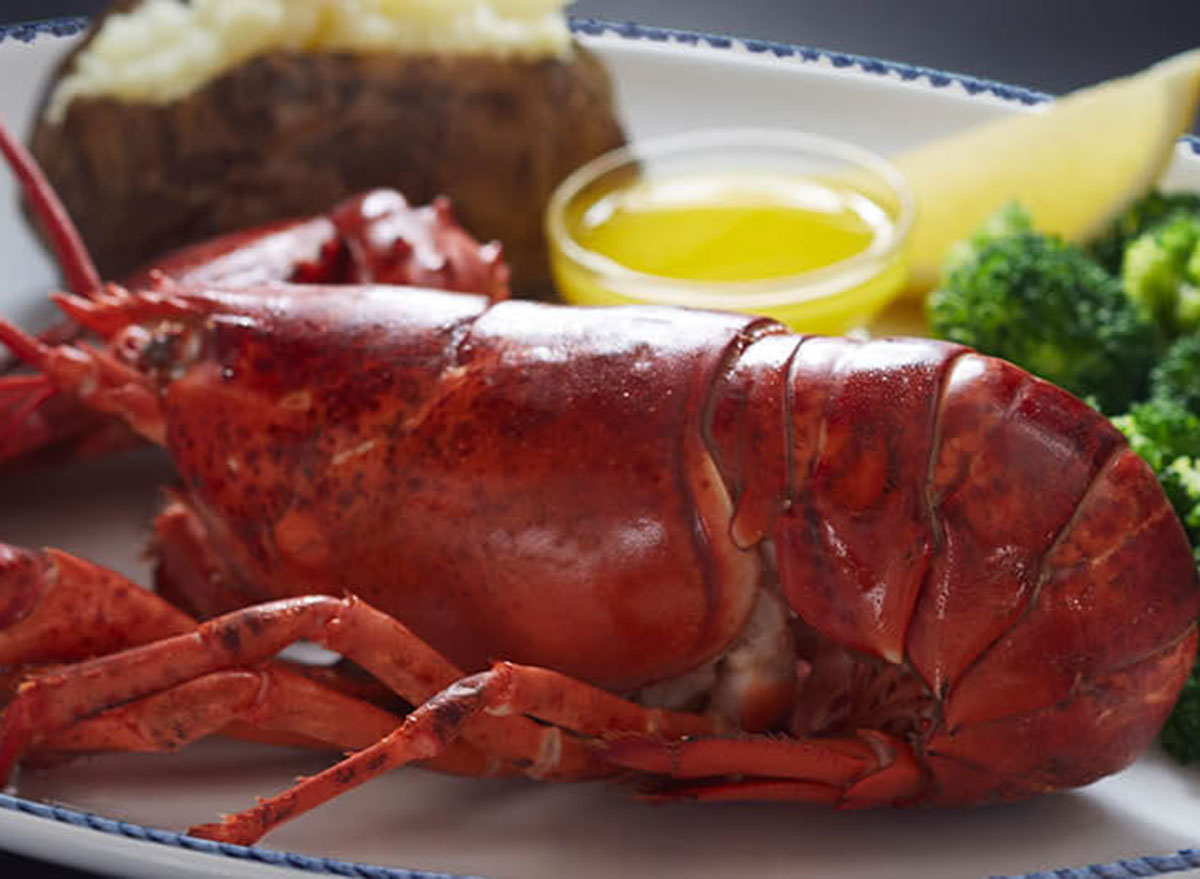 440 calories, 34 g fat (21 g saturated fat), 290 mg sodium, 0 g carbs (0 g fiber, 0 g sugar), 33 g protein
"Lobster is a lean source of protein that is low in calories and saturated fat," explains Best. "It is also a good source of omega-3 fatty acids, which have been linked to a variety of health benefits including heart health."
"Steaming is a healthy cooking method, as can be seen with the nutrition info—which is 440 calories and 290 milligrams of sodium for the dish," says Amidor. "However, the sauce does add saturated fat which is 21 grams—over 100% of the daily recommended max. It's also more protein than you really need in one day," she adds. "I recommend pairing it with a side salad and other non-fried veggies to get a more balanced meal and splitting the protein with two or even three people."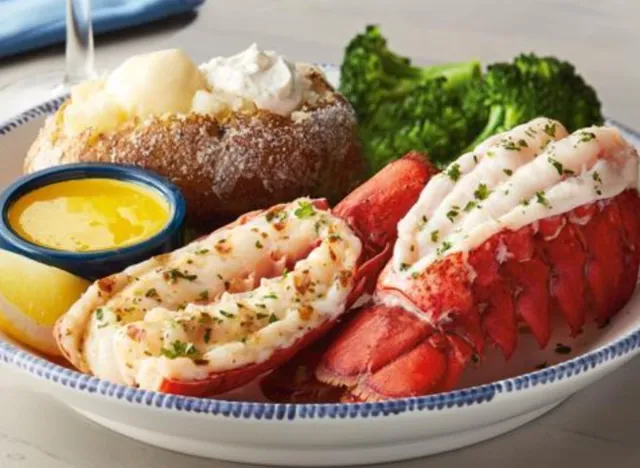 560 calories, 51 g fat (24 g saturated fat), 1,150 mg sodium, 1 g carbs (<1 g fiber, 0 g sugar), 25 g protein
"Lobster tail is a lean protein—however, that butter sauce certainly adds lots of saturated fat and calories," says Amidor. "The calories just for the lobster duo (no sides) is 560 with 51 grams of total fat, 24 grams of saturated fat, 1,150 milligrams sodium, and 25 grams protein. Although the protein amount is ideal for one meal, the saturated fat is 120% over the recommended daily max while the sodium is about 50% of your total max (which is decent for dining out)."
"It really is the butter sauce that is adding those extra calories, sodium, and saturated fat," she adds. "So, add just 1 tablespoon max, and be mindful not to overdo it."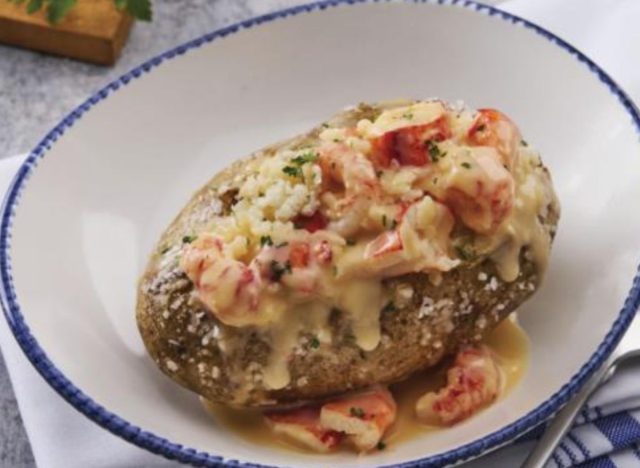 350 calories, 11 g fat (6 g saturated fat), 500 mg sodium, 51 g carbs (5 g fiber, 5 g sugar), 13 g protein
"Potatoes are a vegetable almost everybody likes, and they are actually a nutrient powerhouse, providing you with antioxidants, vitamin C, vitamin B6, potassium, and more," says Goodson. "Pairing lobster with a baked potato provides you a combination of protein and fiber that is sure to satisfy at only 350 calories."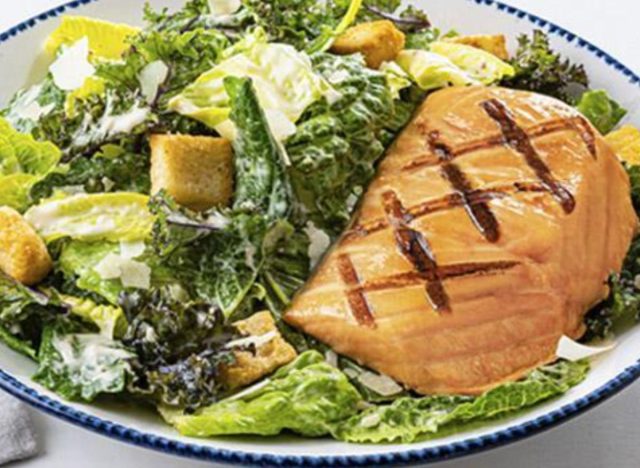 830 calories, 65 g fat (13 g saturated fat), 1,540 mg sodium, 19 g carbs (4 g fiber, 3 g sugar), 41 g protein
"Salmon is a good source of protein and omega-3 fatty acids," says Best.6254a4d1642c605c54bf1cab17d50f1e
"This Caesar salad is packed with heart-healthy fats and 41 grams of protein. Plus, the fiber and water content of the lettuce will help keep you feeling satisfied and provide extra nutrients," says Goodson."The downside [is that] although salads can certainly be a healthful option, it's easy to overdo it with dressings and added toppings such as croutons."
Additionally, Best notes that "the salad may also be high in calories and sodium depending on the dressing and portion size."
"Try asking for the dressing on the side so you can control how much you use, and ultimately cut back on some of the additional calories," suggests Goodson.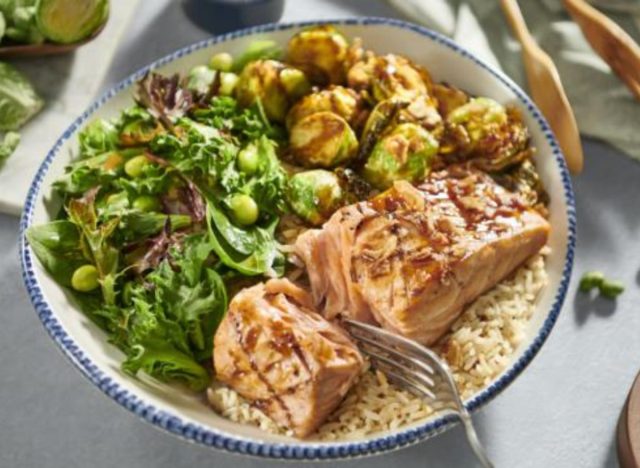 930 calories, 42 g fat (9 g saturated fat), 2,210 mg sodium, 90 g carbs (9 g fiber, 28 g sugar), 46 g protein
"This dish contains salmon, which is a good source of protein and omega-3 fatty acids, as well as brown rice and vegetables, which are high in fiber and nutrients," says Best.
"Fiber and protein are two nutrients that are important for overall health, and work in harmony to help stabilize blood sugars after a meal," says Goodson. "This salmon bowl provides you with a whopping 9 grams of fiber and 46 grams of protein, which can help keep you feeling fuller for longer. Toppings like spring mix, edamame, and Brussels sprouts provide you with an extra nutrient and flavor boost."
"However, it may also be high in sodium and calories depending on the sauce and portion size," adds Best.
Goodson concurs: "The downside [is that] this dish has 2,210 milligrams of sodium—which is almost equivalent to the daily recommended level of less than 2,300 mg per day for healthy adults."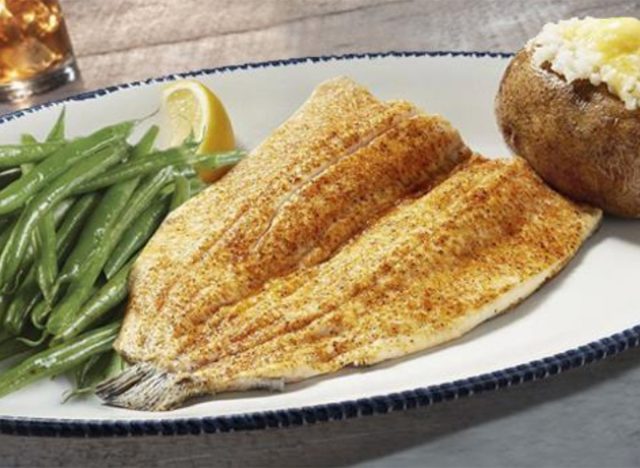 490 calories, 22 g fat (4.5 g saturated fat), 170 mg sodium, <1 g carbs (0 g fiber, 0 g sugar), 67 g protein
"The American Heart Association recommends that we should aim to include at least two servings of fish every week as a part of a balanced diet," says Goodson. "Rainbow trout is a mild, white fish that can be a good option for those who don't enjoy the strong flavors of salmon or tuna, and it provides some of the same omega-3 fatty acids that are great for heart health. And because it's grilled, it has less saturated fat and sodium compared to other menu items."
"Rainbow trout is a lean source of protein that is low in calories and saturated fat. It is also a good source of omega-3 fatty acids, which have been linked to a variety of health benefits including heart health," says Best. Similar to other healthy items on the Red Lobster menu, Best also notes this dish "may also be high in sodium and calories, depending on the preparation methods and additional ingredients used."