Who Wins 'The Golden Bachelor'? Here's Who Gerry Turner Chooses
ABC's The Golden Bachelor finale is fast approaching, and we've been wondering who Gerry Turner chooses all season long. Gerry had an early connection to Theresa Nist, as they bonded over losing their spouses. But he also had a serious attraction to Leslie Fhima, as she has the adventurous lifestyle he loves. So, who does Gerry choose? Here's who wins The Golden Bachelor, according to spoilers.
[Spoiler alert: The Golden Bachelor spoilers ahead regarding who wins.]
'The Golden Bachelor' spoilers: Here's who wins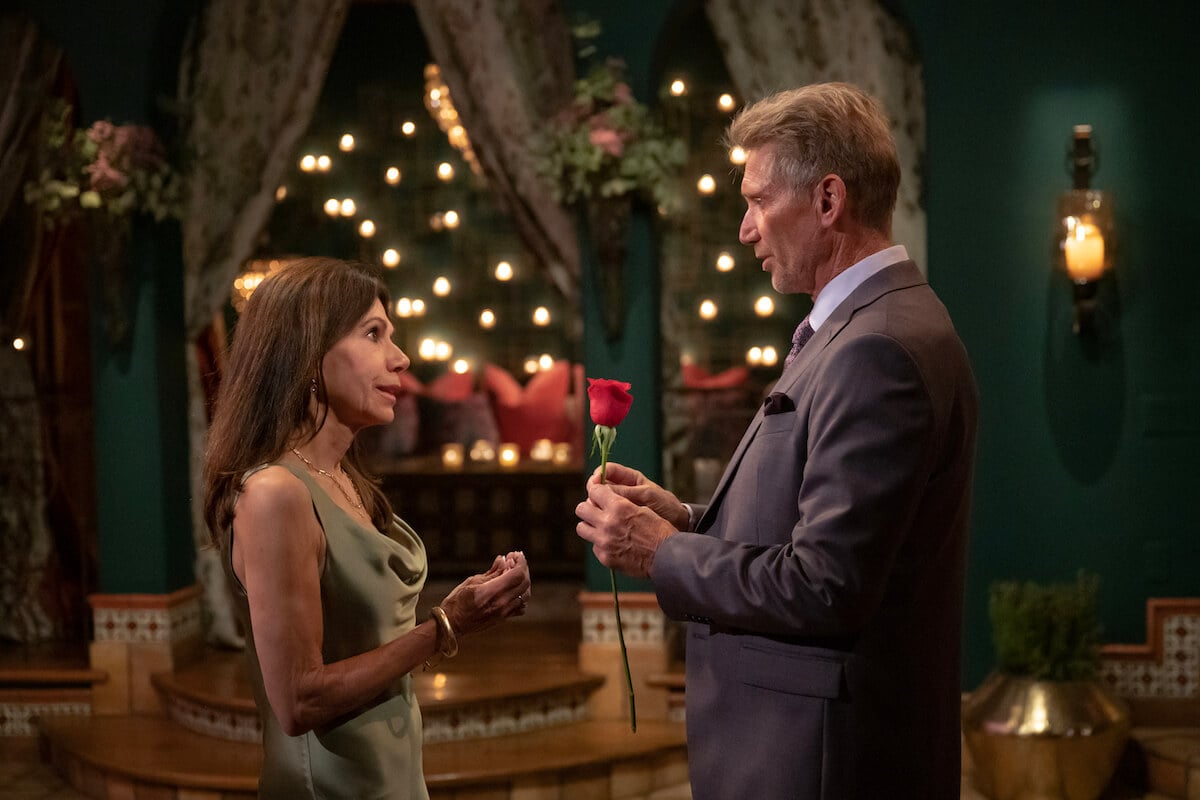 Fans keeping up with The Golden Bachelor spoilers are eager to hear who wins. According to Reality Steve, Gerry Turner gets down on one knee for Theresa Nist, sending Leslie Fhima home.
Gerry invited both Theresa and Leslie on Fantasy Suites dates, which gave him clarity on his final decision. Gerry had his first Fantasy Suite date with Leslie, and he couldn't take his mind off her at the start of his date with Theresa. However, as his date with Theresa progressed, she and Gerry dug deep into their personal histories and life goals. Theresa explained more about her job to Gerry, which impressed him. After spending the night together, many fans assumed Theresa would be the one.
During the finale week, Theresa and Leslie will meet Gerry's daughters. A preview for the episode shows one of Gerry's daughters disapproving of one of the women. This may also sway Gerry toward picking Theresa.
Gerry spoke to Entertainment Tonight about his final decision. "When you're down to the last two people over that amount of time and that much investment, you really have strong feelings for them. And it's, oh, my God, it was an incredibly bad situation," Gerry explained.
Host Jesse Palmer says Gerry Turner's ending is 'by far the most heartbreaking'
While Gerry Turner chooses Theresa as The Golden Bachelor winner, he still has a lot of love for Leslie Fhima. And his breakup with Leslie is "by far the most heartbreaking" ending that the franchise has ever seen, according to host Jesse Palmer.
READ RELATED: How Did Keith Gattis Accident Happen? Facts
"He's had a lot of very difficult goodbyes throughout the course of all of this, but the final goodbye is by far the most heartbreaking, the most difficult for him," Palmer shared. "I think people are going to see that at the finale."
Palmer went on to say that Gerry saying goodbye to Leslie was "the most emotional goodbye" he's "ever seen in the show's history — from Bachelor, Bachelorette, Bachelor in Paradise. I mean, it's really gutting. It's heart-wrenching."
When is 'The Golden Bachelor' finale?
The Golden Bachelor finale airs on Thursday, Nov. 30, 2023, at 8 p.m. ET. Reality Steve says the finale will be two hours and incorporate an After the Final Rose component. This is when Gerry Turner will face Leslie Fhima after dumping her for The Golden Bachelor winner, Theresa Nist.
During the After the Final Rose special, we'll hear more about Gerry and Theresa's plans for the future, including where they'll live. Theresa currently lives in New Jersey, while Gerry lives in Indiana. We'll also hear about the couple's exciting future marriage plans.
This story was originally reported by Reality Steve via Instagram.
The Golden Bachelor airs Thursdays at 8 p.m. ET on ABC.
For more on the entertainment world and exclusive interviews, subscribe to Showbiz Cheat Sheet's YouTube channel.
!function(f,b,e,v,n,t,s){if(f.fbq)return;n=f.fbq=function(){n.callMethod?n.callMethod.apply(n,arguments):n.queue.push(arguments)};if(!f._fbq)f._fbq=n;n.push=n;n.loaded=!0;n.version='2.0′;n.queue=[];t=b.createElement(e);t.async=!0;t.src=v;s=b.getElementsByTagName(e)[0];s.parentNode.insertBefore(t,s)}(window,document,'script','https://connect.facebook.net/en_US/fbevents.js');fbq('init','1931209583834020′);fbq('track','PageView')