Beetroot Juice For Hypertension: What Happens When You Drink Beetroot Juice Daily With High Blood Pressure?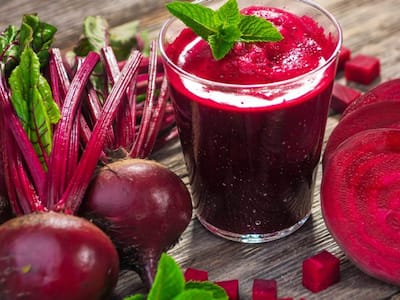 Did you know drinking beetroot juice can help in managing high blood pressure? Scroll down to know how this natural drink can help in keeping your heart safe.
High blood pressure, also known as hypertension is a condition that occurs when the pressure in your blood vessels is too high (140/90 mmHg or higher). This pressure refers to the force at which the blood is getting pushed against the artery walls. Constant high blood pressure can wreak havoc inside the body, including severe damage to the heart. Today, in this article, let's take a look at how a simple ingredient present in the refrigerator can help manage high blood pressure easily at home.
Hypertension: The Silent Killer
Hypertension is a growing lifestyle concern for people of all age groups. According to a report by the World Health Organisation (WHO), an estimated 1.3 billion adults aged 30 79 years from all over the world are currently suffering from hypertension. And of this, approx 46 per cent of adults are not even aware of the condition. This is mainly due to the name that hypertension carries with itself – a 'silent killer'. As per studies, hypertension doesn't come with a set of signs and symptoms, which makes it extremely difficult for the patient to track the onset. However, there are a few symptoms that can tell you about rising blood pressure, such as:
Severe headaches
Persistent chest pain
Extreme fatigue and dizziness
Unable to breathe properly
Nausea or vomiting
Blurry vision
Anxiety
Can Beetroot Juice Really Reduce Blood Pressure?
Now, that you know the symptoms of this condition, it is important to mark that high blood pressure patients are required to make some visible lifestyle changes in order to keep the condition under control. "Along with proper medication, lifestyle changes are important to manage high blood pressure. And one big part of that is improving your diet and eating more consciously," says Dr Dhiman Basu, General Physician, at Belle Vue Hospitals.
Today, in this article, we will answer if drinking beetroot juice can help manage high blood pressure. According to Dr Basu, these deep red vegetables are packed with (NO3) dietary nitrates, which aid in blood vessel relaxation and reduce blood pressure by improving blood flow. Beetroot is also known as the superfood for hypertension.
As per studies, dietary nitrate gets converted into biologically active nitrite (NO2) and nitric oxide (NO) upon consumption. How does nitric oxide help in managing high BP? Nitric oxide plays an important role in providing relaxation of the blood vessels which helps in decreasing high blood pressure significantly.
How Much Beetroot Juice Should You Drink Daily?
According to a 2015 research funded by the British Heart Foundation (BHF) at the Queen Mary University of London, an adult is recommended to drink 250 ml beetroot juice on a daily basis in order to manage high blood pressure.
What Is The Normal Blood Pressure Reading?
Normal blood pressure can vary between individuals, but the American Heart Association recommend a target blood pressure below 120 mm Hg systolic and 80. In order to keep your blood pressure under control, make sure you take proper care of your health and daily habits. Manage diabetes and its symptoms, stay physically active, eat healthy, avoid gaining too much weight, exercise regularly, quit smoking and avoid drinking too much alcohol.
Disclaimer: Tips and suggestions mentioned above are for general information purposes only and should not be considered professional medical advice. Make sure you always consult a doctor before making any changes to your diet or daily routine.
Total Wellness is now just a click away.
Follow us on