Cholera Cases More Than Doubled Last Year, 24 Countries Currently Facing Active Outbreaks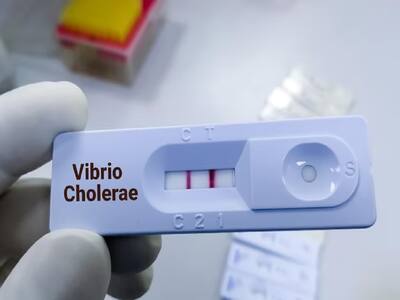 Not only were there more cholera outbreaks in 2022, but the outbreaks were larger, compared to 2021.
The World Health Organization (WHO) has published comprehensive cholera statistics for 2022, highlighting the scale and extent of the ongoing cholera upsurge. According to the WHO data, cholera cases reported to the organization last year were more than double the number reported in 2021.
Also, more countries reported cholera cases in 2022. Forty-four countries reported cholera outbreaks in 2022, compared to 35 countries in 2021, an increase of 25%. The outbreaks were also larger in 2022 than the previous year, according to the WHO report.
The largest cholera outbreaks were reported in seven countries that include Afghanistan, Cameroon, Democratic Republic of the Congo, Malawi, Nigeria, Somalia, Syrian Arab Republic. Each of these countries reported over 10 000 suspected and confirmed cases.
Reasons behind global cholera upsurge
Cholera is an acute intestinal infection caused by the bacterium Vibrio cholerae. It causes severe watery diarrhea, which if untreated can lead to dehydration and even death . People can get cholera when they consume food and water contaminated with faeces containing the bacteria.
The cholera outbreak is often linked to the lack of adequate safe water and sanitation, due to underdevelopment, poverty and conflict.
Climate change is also blamed for the recent cholera upsurge. According to WHO, extreme climate events like floods, droughts and cyclones can trigger new outbreaks and worsen existing ones.
READ RELATED: Dandruff Remedy: Complete Dandruff Removal Using Homemade Ingredients
As per WHO's current data, cholera cases continue to rise globally. Currently, active outbreaks are being reported in 24 countries, with some countries facing acute crises.
Cholera vaccines
WHO has approved three oral cholera vaccines (OCV): Dukoral, Shanchol, and Euvichol, the later two are used for mass vaccination campaigns. All these vaccines require two doses for full protection.
However, in October 2022, the International Coordinating Group (ICG) suspended the standard two-dose vaccination regimen in cholera outbreak response campaigns, and instead started using a single-dose approach.
Total Wellness is now just a click away.
Follow us on
Don't Miss Out on the Latest Updates.
Subscribe to Our Newsletter Today!
window.addEventListener('load', (event) => {
$('#commentbtn').on("click",function(){
(function(d, s, id) { var js, fjs = d.getElementsByTagName(s)[0]; if (d.getElementById(id)) return; js = d.createElement(s); js.id = id; js.src = "//connect.facebook.net/en_US/sdk.js#xfbml=1&version=v2.3"; fjs.parentNode.insertBefore(js, fjs);}(document, 'script', 'facebook-jssdk'));
$(".cmntbox").toggle();
});
});