Coronavirus: How England lags behind other UK nations on testing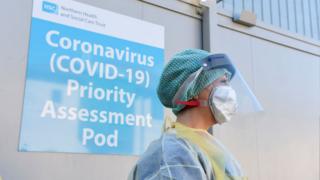 Official data suggests testing for coronavirus per head of population in England has been considerably slower so far than that in Scotland, Wales and Northern Ireland.
As of 8 April, 343 people have been tested per 100,000 of the UK population, according to the Department of Health and Social Care. These are diagnostic swab tests to establish whether an individual is infected by coronavirus.
Across the four nations, the numbers break down as follows:
Northern Ireland: 503 people tested per 100,000 of population (total 9,564 people tested)
Scotland: 471 people tested per 100,000 (total 26,226 people tested)
Wales: 440 people tested per 100,000 (total 14,031 people tested)
England : 320 people tested per 100,000 (total 182,887 people tested)
That means that up to 8 April, 79% of the people tested in the UK were in England, despite England having roughly 84% of the country's population. England has also had 83% of confirmed coronavirus cases in the UK so far, and 91% of deaths recorded in hospitals.
Testing and laboratories
Health Secretary Matt Hancock has already said the government has "a huge amount of work to do" to meet its target of 100,000 coronavirus tests a day in the UK by the end of April.
And the slower pace of testing in England has raised further concern because much of the procurement and allocation of tests has now been centralised for all four nations.
Experts say England has far more laboratories than the other UK nations, and it is important to create a uniform testing platform so all labs are testing in exactly the same way.
But Dr Bharat Pankhania, senior clinical lecturer at the University of Exeter medical school, says accreditation of labs has been too slow.
"This is nothing to do with capacity," he says, "capacity can be expanded very quickly, and there are plenty of labs."
"This is a simple test and we just need to get on with it. We don't need this stranglehold by Public Health England [PHE]."
When asked to comment on the slower pace of testing in England so far, PHE pointed out that it is not directly responsible for laboratory accreditation. That's the job of the United Kingdom Accreditation Service, although it is up to PHE and the Department of Health to ask for certain standards to be maintained.
"PHE has moved heaven and earth to develop an accurate test, ensuring that every hospital patient that needs one has been tested," said PHE's chief executive Duncan Selbie in a statement.
"We and our NHS colleagues have delivered our promise of 10,000 tests a day on time and are on track for 750,000 tests per month [25,000 per day] by the end of April," he said.
"We have supported NHS laboratories to get their COVID-19 testing up and running, to make sure the tests they are using provide accurate results."
That of course does not explain the discrepancy in testing figures between different nations within the UK so far.
The pace of testing in England has been increasing over the past week, but a rapid acceleration may only happen when private laboratories join those run by public health bodies.
One new testing facility is being developed by the pharmaceutical companies AstraZeneca and GSK with the University of Cambridge.
"We believe we will start testing by mid-April," AstraZeneca's CEO Pascal Soriot told the BBC's Today programme, "and be at scale with 30,000 tests a day by early May."
All four nations are also obviously trying to increase testing as much as possible in public health facilities as part of the UK-wide effort.
The Scottish First Minister Nicola Sturgeon said NHS Scotland's testing capacity in hospitals would increase to at least 3,500 a day "by the end of this month, at the latest".
She said that figure should be compared to the "pillar one" target in England of 25,000 tests a day – done in NHS and public health laboratories – by the end of April.
This piece was published on 3 April and updated on 8 April to include the latest figures.
Source: BBC News – Health