Homemade Ranch Dressing Recipe: Healthy, Delicious, and Simple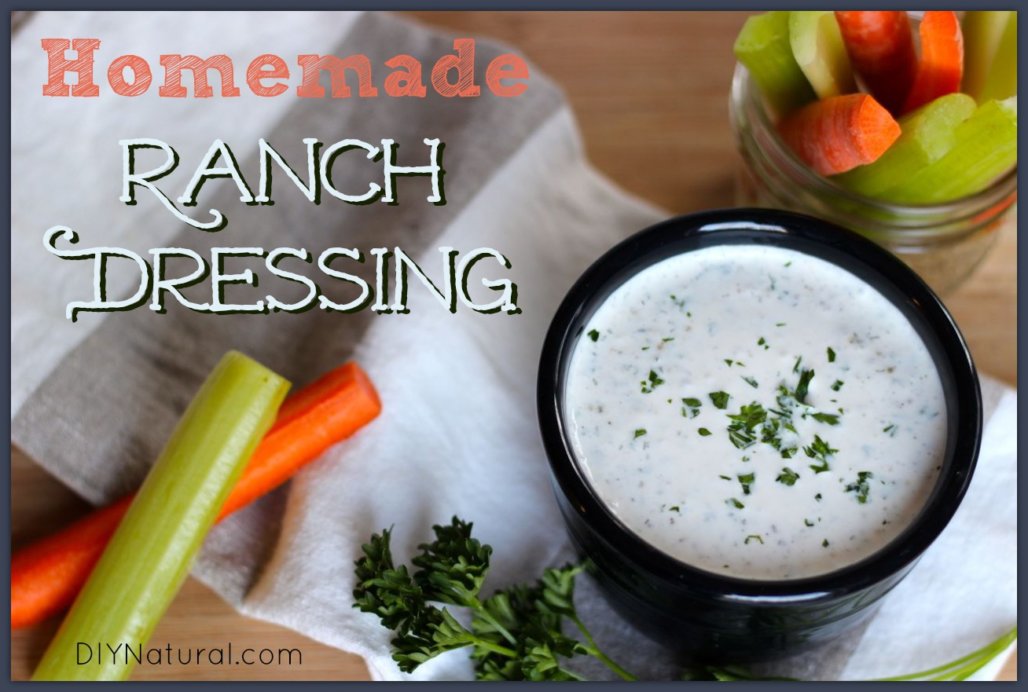 Ranch dressing is a little slice of heaven! This homemade ranch dressing is so delicious, and because the ingredients are healthy, the dressing is healthy.
Ever notice that kids will eat almost anything if they can dip it in ranch dressing? My mom used to get out the ranch dressing every time her grandkids were eating at her house, and I hated that the store-bought stuff contained high fructose corn syrup, preservatives, and other junk. I always wondered if it canceled out the vitamins and nutrients in the carrot sticks she was enticing them to eat. (Especially because they would eat more ranch than carrots.)
As always, ranch dressing is something you can easily make at home without all the extra junk that companies add to increase shelf life and keep costs down. Our homemade ranch dressing recipe is perfect for serving with veggies, salads, or anything else you love ranch with. This is the perfect dip to set out for holiday gatherings, Super Bowl parties, children's birthday parties, or any other gathering where hungry guests will be looking for snacks.
Tips and Notes
I have tried this recipe many ways – with fresh and dried garlic and onion, fresh and dried parsley, more and less milk, cream cheese instead of sour cream, and just about any other variation you can think of. I'm sharing the way I think it tastes best, but definitely adjust measurements and ingredients to suit your tastebuds.
Tip: if you prefer Catalina, try our homemade french dressing.
We like our homemade ranch dressing a little thinner so it pours easily onto salads. If you like yours thick for use as a dip, just add a little more sour cream.
Homemade Ranch Dressing Recipe
(Makes 1½ cups of dressing)
Ingredients:
Directions:
To make this homemade ranch dressing, begin by stirring together the milk and lemon juice in a small bowl. Set aside for about 5-10 minutes. (This is the cheater's version of buttermilk. I don't use real buttermilk because I like to use lemon juice anyway – it adds a nice zing to this dressing.)
Combine milk mixture and sour cream in a medium-sized bowl, whisking until smooth.
Add dry ingredients and whisk until thoroughly combined.
Transfer the dressing to a jar with a tight-fitting lid and refrigerate.
Shake before each use. Keeps for at least a few weeks in the refrigerator (if you can make it last that long in your house).
We DARE you to make this homemade ranch dressing, and promise you'll be hooked!
*******
Source: DIY Natural – Food