IMD Issues Yellow Alert In Delhi And Delhi-NCR: 6 Health Problems You Should Be Aware Of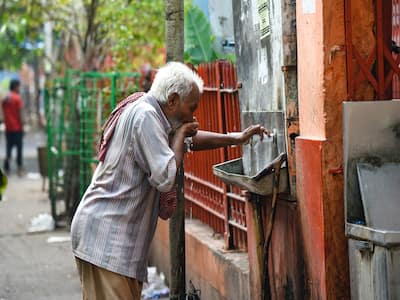 IMD issues a heat wave warning in Delhi and its adjoining areas as temperatures breach 45 degrees.
The Indian Meteorological Department has issued a heat wave warning and a yellow alert for Delhi and Delhi NCR. This announcement was issued after many parts of Delhi recorder a maximum temperature of above 45 degree Celsius. Today, about four stations recorded a temperature of 45degrees and slightly higher than 45 degrees, as per IMD. They also stated that this was apparently the first day of such a high temperature. On Sunday, the highest maximum temperature of 46.3 degrees was recorded at Najafgarh. IMD also predicted that there might be string surface winds during the day. Residents of Delhi and Delhi-NCR might experience some relief from May 24 as the IMD predictions state light rain and cloudy weather for about three or four days.
Extreme climatic conditions have become a part of our daily life and amidst this, we still have to go on about our daily jobs. So, how can we cope with his weather and still stay healthy and fresh? The first step is to know the kind of health problems we might face during a heat wave. The next step would be to take precautionary measures.
Health Problems You Might Face During A Heat Wave
Heat Cramps: Heat cramps are very common in this weather. It can happen from high temperatures, dehydration and loss of electrolytes and also intense physical activities.
Heat Exhaustion: A more severe form of dehydration is heat exhaustion. This can lead to overheating of our body and inability to regulate body temperature. The common symptoms are weakness, dizziness, heavy sweating, fainting, headache and nausea.
Heatstroke:Heatstroke happens when our body temperature rises above 40 degree C and it can be fatal. The symptoms are seizures, confusion, rapid heartbeat and unconsciousness.
Respiratory Problems: Hot and humid weather can worsen respiratory problems such as asthma and chronic obstructive pulmonary disease (COPD).
Skin Problems: Prolonged exposure to the sun and high temperatures can cause sunburn, heat rash, and other skin problems.
Eye Problems: Heat exposure can cause allergies, Stye, cataract and dry eye problem.
Total Wellness is now just a click away.
Follow us on