Laser Vision Correction: New SILK Procedure For Myopic Patients Launched In India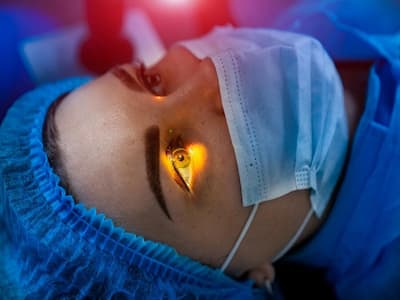 The SILK procedure is the newest innovation to help patients with myopia achieve excellent vision without glasses or contact lenses
Good news for patients with myopia in India! The new SILK (Smooth Incision Lenticule Keratomileusis) procedure that uses the next-generation laser vision correction solution has been launched in India. It can correct the vision for patients with myopia, with or without astigmatism.
Johnson & Johnson Vision, a global leader in eye health and part of Johnson & Johnson MedTech, has introduced the new SILK procedure in India.
The SILK procedure provides surgeons with advanced technologies and designs to elevate surgical experiences and patient outcomes in correcting refractive errors, said Burzin Shahana, Country Manager, Surgical Vision India, Johnson & Johnson Vision.
Using the next-generation laser vision correction solution, the company aims to improve the standard of care for patients with myopia in the country, he added.
Benefits of SILK procedure
Myopia or nearsightedness is corrected with glasses, contact lenses or surgery in some cases (mostly for adults). Refractive surgery allows myopic patients to clearly see distant objects without glasses or contacts. The SILK procedure is the newest laser vision correction solution for patients with myopia from Johnson & Johnson Vision.
It is an easy procedure that involves creating a small disk-shaped lens, called a lenticule, in the cornea. Through a microscopic incision, the lenticule is delicately removed and the cornea is reshaped to help the patient see flawlessly.
READ RELATED: From Brain Health To Joint Pain, Here Are 6 Ways Fish Oil Supplements Can Benefit You!
With the SILK procedure, patients recover quickly and report high satisfaction with their results, as per Johnson & Johnson study findings.
According to the study report, almost all patients reported being satisfied with the results of their SILK procedure. 98% of patients who had the SILK procedure said they are satisfied with how quickly their vision improved and 96% of them expressed that would recommend SILK to a friend or family member.
Caution: Laser vision correction is not right for everybody. Talk to an eye surgeon to learn whether you're a good candidate for laser refractive surgery and its pros and cons.
Total Wellness is now just a click away.
Follow us on
Don't Miss Out on the Latest Updates.
Subscribe to Our Newsletter Today!
window.addEventListener('load', (event) => {
$('#commentbtn').on("click",function(){
(function(d, s, id) { var js, fjs = d.getElementsByTagName(s)[0]; if (d.getElementById(id)) return; js = d.createElement(s); js.id = id; js.src = "//connect.facebook.net/en_US/sdk.js#xfbml=1&version=v2.3"; fjs.parentNode.insertBefore(js, fjs);}(document, 'script', 'facebook-jssdk'));
$(".cmntbox").toggle();
});
});