Swimming pools are a vital lifeline for communities | Letters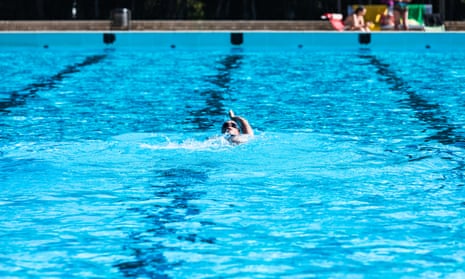 Gill Empson recalls how a purpose-built pool in a comprehensive school served the whole community, while Cynthia Scott says public health campaigns are meaningless if leisure facilities are shut down
When I started teaching in the 1960s, in a brand new, purpose-built comprehensive school in a mining town, we had our own swimming pool (Letters, 14 March). It was used by the nearly 2,000 pupils in the school, and also by the local primary schools. In the evenings there were mother and baby sessions and adult education classes. I taught many elderly people to swim, a source of great joy to them and to me.
The 21st century brought budget cuts and the school could no longer afford to heat the pool. It now stands empty in a building that can't be used for any other purpose.
Pupils have to be bused 10 miles to the nearest pool, and the community have to travel if they want to swim. We have lost the most effective and enjoyable exercise for all ages, abilities and pockets. What price progress.
Gill Empson
Edwinstowe, Nottinghamshire
While Rishi Sunak has apparently managed to sort out the electricity supply required to heat his pool (Rishi Sunak has electricity grid upgraded to heat his private pool, 12 March), we in Tottenham have been without our local pool since December, due to an electricity supply problem. We have also looked on as maintenance works were carried out in a relatively short space of time on the swimming pool at the western, more affluent side of Haringey borough (of which Tottenham is a part).
If pools and leisure facilities are being treated as if they are not important, then all the campaigns encouraging people in more deprived areas to look after their health and fitness, are nothing but meaningless gestures.
Cynthia Scott
Tottenham, London
Source: Health & wellbeing | The Guardian