World Food Safety Day: How Restaurants, Food Companies Ensure Safety Of Food They Prepare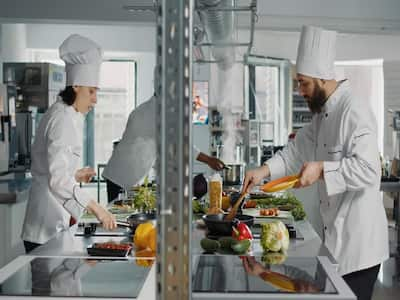 On World Food Safety Day 2023, restaurant owners and food manufacturers share the essential measures they take for ensuring safety of the food they prepare or serve.
Millions of people fall ill after eating contaminated food, leading to thousands of deaths every year. According to WHO, foodborne illnesses cause 420, 000 deaths every year, with children under 5 years of age constituting a large number (125 000 deaths every year). Minor children also constitute 40 per cent of the foodborne disease burden. Consumption of contaminated food (containing harmful bacteria, viruses, parasites or chemical substances) causes over 200 foodborne diseases, ranging from diarrhoea to cancers, which can to long-lasting disability and death.
On World Food Safety Day 2023, we asked restaurant owners and food manufacturers about the measures they take for ensuring safety of the food they prepare or serve. Here's what they say:
Hygiene and sanitation are very important for food safety
Gagan Anand, Founder, Scuzo Ice 'O' Magic says:
We go the extra mile to exceed industry standards and ensure the utmost food safety for our esteemed customers. Our commitment begins with a meticulous focus on hygiene and sanitation, where we maintain a pristine environment at all times. Our dedicated team undergoes regular training and awareness programs, equipping them with the knowledge and skills to handle food safely. We have implemented a comprehensive pest control program to safeguard against any potential threats.
To maintain the highest quality, we strictly adhere to product receiving guidelines and follow a robust storage policy. Our shelf-life charts are diligently monitored to guarantee that only the freshest ingredients make it to your plate. We are unwavering in our commitment to the FIFO principle, ensuring that older stock is utilized before newer ones.
Moreover, our food handling procedures are of paramount importance to us. Our staff adheres to wearing gloves, hair nets or caps, and practices regular handwashing to prevent any cross-contamination. Personal grooming standards are strictly enforced to uphold the highest levels of cleanliness and professionalism.
We understand that customers' trust in our establishment is earned, and we value it deeply. With a focus on transparency and accountability, we aim to provide them with an exceptional dining experience that not only tantalizes their taste buds but also ensures their safety.
Use of any ingredient past its shelf life should be avoided
Partner Chef, Manoj Pandey, The Piano Man, asserts:
Apart from the set standard and food safety regulations, we make sure that everything served to our patrons is fresh and made from clean ingredients. For the same, we have implemented a daily inventory system for each material in our pantry that allows us to realize the shelf life of each product and use them accordingly. To avoid contamination of cooked food or half-done food, which we call mise en place in the kitchen, we store the food for one day only so the next day we start with a new mise en place. This helps us to prevent anything from getting spoiled. We also tag our ingredients and food daily to avoid contamination and/or using any ingredient past its shelf life."
Make sure good hygiene of the workersin the kitchen is ensured
Meha Agarwal, Owner, MeeMee Ice cream, says:
Food safety and hygiene are one of our top priorities in the kitchen. If ingredient quality and taste are important for the product, I would put hygiene and cleanliness of the production facility and the workers at par with that. We have a team that cleans the facility several times through the day, and we do a round of deep cleaning every month. Additionally, there are SOPs in place to ensure good hygiene of the workers at all times.
How fruits and vegetables are washed matters
Dhaval Udeshi, Co-founder, Chrome Hospitality says:
Cleaning and sanitizing are two important things that we always keep in mind. Cleaning surfaces means washing off any dirt, grime or food remnants from all food prep surfaces. Sanitizing is done to remove surface pathogens. This combination is a part of our surface cleaning regimen at our restaurants.
Not only surfaces and equipment, but the ingredients such as fruits, vegetables, whole grains, herbs, beans as well as jars and lids are washed and rinsed before using them.
When it comes to food produce like fruits, vegetables and herbs, the USDA recommends washing products under cold running tap water.
We also use a brush for some fruits and vegetables to make sure we remove any residual dirt. We don't use detergent or soap to wash fruits or vegetables, as the chemicals could end up seeping into the porous surface of the produce. Instead, we use a vegetable wash, homemade water and distilled vinegar mix or just good ol' running water.
How people can ensure food safety at home
Functional Nutritionist Mugdha Pradhan, CEO and Founder, iThrive comments:
Intensive chemical farming has become the norm today so much so that foods that don't utilize these highly synthetic and harmful chemicals for their production are deemed special with an "organic" label. The first and foremost thing we can do in terms of food safety to protect our health is to reduce our exposure to these chemicals as much as possible.
The best option is to ensure we buy organic produce. But buying all your produce organic can be expensive. To reduce expenses, you can be selective about what you choose to buy organic. Some foods, compared to others, are sprayed with a much higher amount of pesticides and typically utilize more chemicals or genetic modification for their production.
One way to reduce your exposure to farming chemicals if you've got non-organic produce is to wash the produce with activated charcoal.
Apart from farming chemicals, another important aspect of food safety is pathogens. This is a problem, especially in the summer as food spoils very quickly. Meat and other raw food must be washed properly before use. Food must not be left outside for long. Eating from unhygienic places is a common cause of infections too and must be avoided.
With the theme "Food standards save lives", World Food Safety Day 2023 is drawing public attention to food standards that are important to ensure what we eat is safe. The day is also dedicated to encouraging actions for prevention, detection and management of foodborne diseases that affect 1 in 10 people worldwide each year.
Total Wellness is now just a click away.
Follow us on